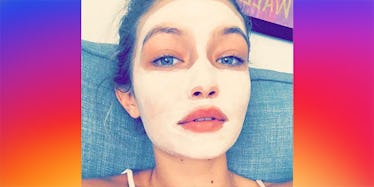 Gigi Hadid Finally Revealed The Secret Behind Her Even, Glowy Skin
Snapchat/Shutterstock
When you're an internationally acclaimed supermodel with flaxen hair, a fashion collection and the most desirable man on your arm, what's a girl to do?
If you're Gigi Hadid, the solution is to take some "me" time.
The star recently Snapchatted her famous face covered in a clay face mask, somehow still glowing under all that goop. Captioning the photo, "Charlotte Tilbury I heart u," she took a second (10 minutes, actually) to hit refresh on her face.
The mask is Charlotte Tilbury's Goddess Skin Clay Mask, a $55 investment that promises "baby skin" (not to be mistaken for "skin taken from an actual baby") and tightened pores.
Charlotte Tilbury Goddess Skin Clay Mask, $55, Nordstrom
If there's any adult woman proving baby skin is actually attainable, it's Hadid.
She joins the ranks of celebrities like Kim Kardashian, Amal Clooney and Sienna Miller in swearing by the mask's results.
Wondering what makes it so special? First, there's the Spanish clay, which draws out impurities. Rose hip oil works overtime to minimize fine lines, even out blemishes and soothe irritation.
Add in Sweet Almond oil to refine your pores and plump up skin, and you've basically tapped into the fountain of youth.
If you're in the market for a face mask that achieves similar results without the price tag, there are also a few budget alternatives to consider. You might combine a few to get your glow on.
If your skin is acne-prone or uneven, Lush's Rosy Cheeks fresh face mask — packed with calamine lotion and rose oil — is a $13 quick fix. For pore-tightening skincare, I stand by TonyMoly's I'm Real Red Wine sheet mask.
Rosy Cheeks Fresh Face Mask, $13, Lush; I'm Real Red Wine Sheet Mask (10-pack), $13, Amazon 
Oh, Gigi. Something about you makes me want to spend all the money in my bank account. No wonder you — and your flawless angel skin — are so successful.
Only one question remains: Does Zayn use the mask, too?