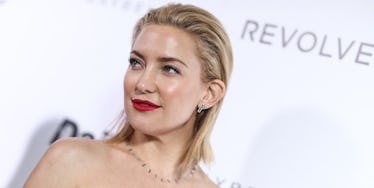 Kate Hudson Reveals The One Major Change She Made To Completely Get Rid Of Acne
REX/Shutterstock
If I didn't know any better, I would NOT believe Kate Hudson is 37 years old.
The stunning actress constantly slays, no matter whether she's on the red carpet or just hanging out in sweats. But of course, looking this good never comes easy.
Kate's been extremely vocal about her love of Pilates and passion for living healthy. It's why she co-founded athletic apparel company Fabletics, which provides affordable, stylish fitness wear on a membership program.
So, she's all about looking AND feeling great.
But the best part about Kate is her refreshing honesty. Unlike other celebs who try the whole "I woke up like this" approach, Kate's been vocal about her health struggles... which is exactly why we love her.
She recently opened up to Vogue about her skin issues:
My skin, like my body, it fluctuates. I'll have three [good] days, and then boom, I've got pimples showing up. I've had a hard time figuring it out.
So, what did she finally realize worked best for her? It turns out, going vegan completely cleared up her skin.
She told Vogue,
When I went vegan last summer, my skin was the best it's ever been — skin tone, pores, everything.
RIGHT? Who knew?
I mean, I figured going vegan would help you lose weight, but I had no idea it could affect your skin that much. And it isn't just because of the dairy, either.
Kate said of the Paleo diet,
Then I did Paleo, and what was interesting about Paleo was my skin wasn't as good, but your weight drops.
Huh... interesting.
BUT like I said before, what I love about the girl is the fact that she keeps it real. She doesn't ever act like she's against having indulgent food sometimes.
Life's about balance, and you can't restrict yourself... It just won't work.
She said,
But then if I happen to be at a restaurant and they send out a dessert, I'm going to eat the dessert. And if Mario Batali whips up a pasta, I'm not going to say no!
Sounds like my kind of dinner date.
Citations: Kate Hudson Went Vegan To Clear Acne (Vogue)