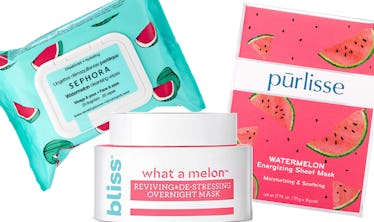 19 Watermelon Beauty Products For Glowy AF Skin
Sephora
I've never been in a watermelon-eating contest, but I feel like if I've ever signed up, I'd without a doubt slay the competition. I love watermelon — It's sweet, juicy, looks good in Instagram pics and it's actually so good for you. Watermelon is made up of 92 percent water, and is also packed with vitamins A, B6 and C, amino acids and lycopene. More than just a yummy summer snack, watermelon is the latest superfruit to land on beauty ingredient lists, because when your body drinks it up, it's left super hydrated and dewy. And luckily, watermelon beauty products are all the rage right now.
Whether you're in the market for a new face mask to add to your Sunday-morning skincare ritual, or you're looking to the juicy fruit for softer, shinier hair, there's a watermelon-infused product for you. And you want to know something? They're good, really good. So, prepare yourself (and your wallet) for some super sweet-smelling formulas and the most-adorable packaging to make you so thirsty for summer.
I'm pretty sure any nutritionist out there will say "you are what you eat," but I'm a beauty editor and I'm here to say, "you are what you put on your face, and I want your face to be the juiciest summer treat there ever was."
You're welcome.
Sephora Collection Cleansing Wipes In Watermelon For Hydration ($8; Sephora)
Milk Makeup Watermelon Brightening Serum ($36; Sephora)
Maui Moisture Passion Fruit Shampoo ($9; Ulta)
Purlisse Watermelon Energizing Sheet Mask ($36; Purlisse.com)
Ouidad Curl Recovery Melt–Down Extreme Repair Mask ($44; Sephora)
Fizz & Bubble Watermelon Lip Scrub ($8; Ulta)
Glow Recipe Watermelon Glow Sleeping Mask ($45; Sephora)
Origins Make A Difference Plus + Rejuvenating Treatment ($46; Sephora)
Ulta Watermelon Body Sorbet ($11; Ulta)
Skinfood Freshmade Watermelon Mask ($13; Ulta)
Grown Alchemist Watermelon & Vanilla Lip Balm ($23; Net-A-Porter)
Masqueology Watermelon Moisturizing Mask ($3, Walmart)
Kocostar Watermelon Slice Mask ($7; Neiman Marcus)
Volition Beauty Snow Mushroom Water Serum ($62; Sephora)
Bliss What a Melon Reviving & De-stressing Overnight Mask ($16; Bliss)
Pacifica Crystal Youth Gem Infused Face Lotion ($14; Pacifica Beauty)
Que Bella Relieving Peel Off Mask In Watermelon ($2; Target)
Skinfix Online Only Watermelon Mint Lip Repair Balm ($5; Ulta)
Hempz Fresh Coconut & Watermelon Nourishing Herbal Body Wash ($19; Ulta)
There are plenty of ways to incorporate the Instagrammable fruit into your diet (I see you, watermelon margarita), but my favorite way to reap the benefits of the hydrating and vitamin-packed fruit is to apply it topically. Do you have any idea how much watermelon you'd have to eat to make your skin look dewy and feel super soft? Me neither, but I what I do know is you can't miss the instant benefits courtesy of the selection above. So go ahead, fill your cart with my juicy selects.
I can't think of a better way to celebrate summer, can you?