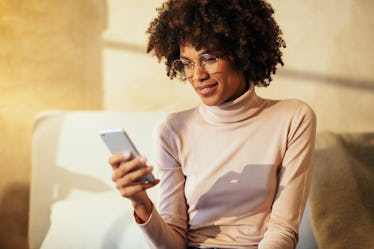 How To Restart A Conversation With Your Crush That Fizzled Out, Because "Hey" Won't Cut It
With the almost inescapable role texting plays in dating culture today, chances are that even early on you and potential-bae have been sending messages —subliminal and digital. When you're texting a crush and you fear the conversation has dwindled, it's easy for negativity to creep in. Why did I text them that? Who says that? I shouldn't haven't tried so hard. BRB, moving to Antartica. If texting stress has you spiraling, it can be difficult to know how to restart a conversation with your crush that fizzled out without losing your chill.
Texting a new crush can feel like packing before a day at the beach. Coordinating the chairs, towels, coolers, and mulling over whether or not bringing an umbrella is extra (it's not), then finally hauling everything from the car to the sand — it's no small feat. Like setting up for a first date, you'll have fun when you get there, but the actually getting there can be difficult, and it's easy to lose interest or momentum.
If you have potential bae's number, and you've talked before, you're on the right track, right? I reached out to Thomas Edwards Jr., founder of The Professional Wingman, about the role texting plays in flirting, and better ways to jumpstart a convo than the dreaded "WYD?"