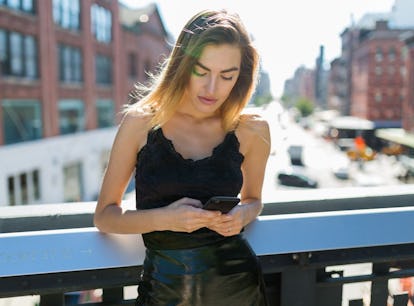 6 Ways To Know They're Not That Interested, Just By How They Text
If they keep you waiting, they're not interested in dating. 🤷
I love the part of dating when you both have text message fever. At first, you try and play it a little cool, but then, before you know it, you're texting all day (and sometimes all night) long. It's flirty, it's fun, and it's exciting. What isn't so fun, flirty, or exciting is when you start to get the feeling the person you're texting isn't really into it. Dry texting is a major bummer, and unfortunately, it's one of the definitive signals you can spot from texting that they're just not that into you. Sorry, truth hurts.
As Damona Hoffman, relationship expert and host of the Dates & Mates podcast, points out to Elite Daily, someone who's not interested in you will likely indicate that through the way they text. "Everyone can be cute and clever in a few sentences," she said. "If you're not feeling a vibe over text and not having texting streaks, it's likely that the chemistry isn't there." If you and your crush are really vibing, then you'll find that the connection is evident even through your texts. However, if you're noticing these disinterested texting signals, then it may be time to focus your energy on someone else.
As Winter says, "Getting real with ourselves can be uncomfortable, but it's key to creating a meaningful and mutually respectful partnership." And if it's clear the person you're texting just isn't giving you their all in return, then you should probably start redirecting your texts to someone who deserves them.
Sources:
Damona Hoffman, relationship expert and host of the Dates & Mates podcast
Julie Spira, online dating expert
Susan Winter, NYC relationship expert
Traci Brown, body language expert and author of Persuasion Point
April Masini, relationship expert and founder of Relationship Advice Forum
Editor's Note: This story has been updated by Elite Daily Staff.
This article was originally published on