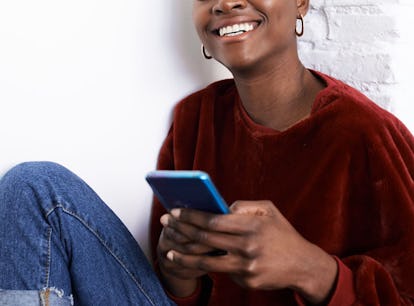 8 Signals You Can Spot From Texting That Mean They're Falling Hard
Who knew text habits could reveal so much?
It goes without saying that texting plays a pivotal role in our relationships. It provides a quick and convenient way to make date night dinner plans while you're still at work. It also offers a less vulnerable way to flirt with your crush and test the waters. It even gives you a way to stay connected to your SO while you two are apart. Not to mention, texting can also impart some invaluable insight into their feelings. There are certain signs of falling in love through text, so if you're not sure where you two stand, then you might be able to figure it out from their texting habits.
Of course, texting is not the only way to tell if someone's falling in love. And if you're dating someone who's not a good texter, then you'll obviously have a harder time mining your text convos for any hints about where they stand. However, experts say there are certain signals that typically suggest someone is developing feelings through texting. Some of them are perhaps more obvious, but there are subtler signs to look out for as well. Wondering whether the person you're talking to is head over heels for you? Then keep a look out for one of these telling text habits.
All these texting habits can certainly point to the possibility that someone is falling. At the same time, don't stress if your crush or partner isn't exhibiting all of these behaviors. Plus, if they make plans to see you in person, they're proving in a different — and honestly more significant— way that they value quality time with you, and that's one of the best ways to build real intimacy.
Sources:
Traci Brown, body language expert and author of Persuasion Point
Patti Wood, body language expert and author of SNAP: Making the Most of First Impressions, Body Language, and Charisma
Julie Spira, online dating expert and author of Love in the Age of Trump
April Masini, relationship expert and founder of Relationship Advice Forum
Clarissa Silva, behavioral scientist
Kayla-Brooke White, NCC, LPC-R, MA, a life coach at Blush
This article was originally published on