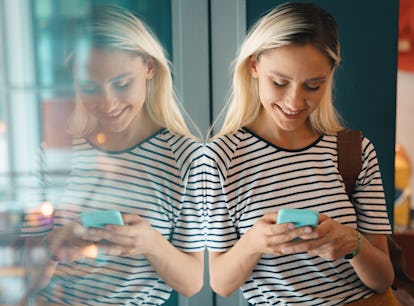 20 Cute, Casual Texts To Send Your Crush When You Wanna Hang Out ASAP
"What are your thoughts on 🍕?"
Shutterstock
So, you've got a crush – now what? You can always watch their Instagram Stories or try to "accidentally" run into them while you're both out and about. There's also the method of convincing your mutual friends to create an event where you two can see each other. The problem with these plans is you're leaving it all up to chance. If you want to hang out for real, it's time to send one of these casual texts to your crush. Sure, it's scary, but if you know how to ask someone to hang out in a casual way, it could all work out in the end.
It's time to stop scheming and hoping for the universe to magically deliver you your crush. You've got to take matters into your own hands. Of course, that's way easier said than done when you've got a potential rejection on the line. That's why keeping it low-key is the way to go. If you know how to ask your crush to hang out the right way, it'll feel like you're just testing the waters. You're keeping it cool and there are less stakes involved.
Not to mention, when you take control of the situation, there's something super sexy about that. You're making the first move, which gives you the upper hand. So, if they do decide to say no, you at least come off as a confident main character who's ready to move on to your next fling. The only issue is deciding on what to say. You want to keep those chill vibes going and knowing how to ask someone to hang out over text takes skill. Luckily for you, there are plenty of casual texts you can send to your crush depending on what situation you're in.
Take these text ideas and make them your own. Be sure to put your own spin to them if needed. After all, you know what would interest your crush the best. Just remember it's totally casual and cool that you're taking reins to ask your crush to hang. No matter the outcome, you're already winning. The date is just the cherry on top.
Editor's Note: This story has been updated by Elite Daily Staff.
This article was originally published on