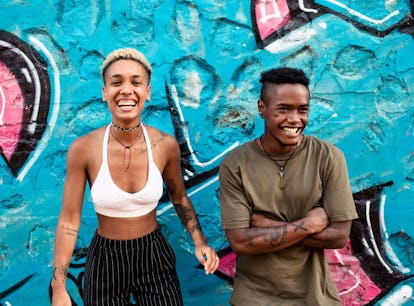 7 Signs You Have A Crush, Because The Butterflies Are Real
First off, if there's someone specific you thought of when you clicked on this article, then I'm going to say that maybe you already know you have a crush on someone. Still, being unsure as to whether you've got a crush or really want to be someone's friend is perfectly normal. There's no rule book for how to know if you like someone, but if you're wondering, "Do I have a crush?" then there are usually a few signs you can expect to notice.
Relationship coach and behavioral scientist Clarissa Silva says the key to differentiating between romantic and platonic interest is mainly sexual attraction. Sometimes, you feel intense adoration for someone that makes you want to be closer to them and that's perfectly platonic. On the other hand, Silva says, "With a romantic crush, you have the same desire plus sexual curiosity and attraction for them."
It's also possible to have a crush on someone whom you find super attractive... but don't actually plan on dating. As Dr. Darcy Sterling, Tinder's dating and relationship trends expert, tells Elite Daily, "A platonic crush is when you have a crush on someone who is either unobtainable — think [a] celebrity crush — or you have a crush on someone who you have no intention of initiating intimacy with." But with a romantic crush, those butterflies mean you're def looking for something more.
If you've got a romantic crush on a certain someone, then these signs will likely sound familiar.
The fact of that matter is that, if you feel an inordinate amount of giddiness, a pointed amount of interest, and a noticeable amount of stress and excitement, then you very well may have a crush on someone. And again, if there was someone you were thinking of the entire time you were reading this... chances are you've already signed a lease in Crushville.
Experts:
Clarissa Silva, relationship coach and behavioral scientist
Dr. Darcy Sterling, Tinder's dating and relationship trends expert
Dr. Rhonda Freeman, clinical neuropsychologist
Sources:
Susan Winter, relationship expert
Thomas Edwards, founder of The Professional Wingman
Andrea Amour, founder and dating coach at UpDate Coaching
Editor's Note: This story has been updated by Elite Daily Staff.
This article was originally published on