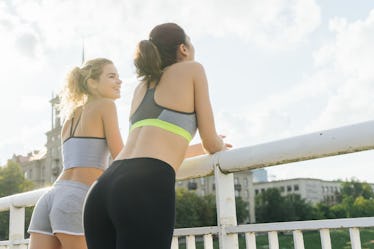 6 Signs You Should Tell Your Crush How You Really Feel, So Take Notes
Crushes can flood you with so many emotions — you're excited, nervous, you want them to like you back and make a move, you want to spend time with them and laugh with them, learn everything and anything about them... it's a lot. But it's also a lot of fun. These nerve-wracking (in a good way), thrilling feelings can all lead to something really beautiful. But crushes can also be hard, especially if you're unsure about the other person's feelings. Should you tell your crush how you really feel? Well, according to a few experts, if you notice these six signs, you should consider telling the truth.
But before making the decision to share your feelings with your crush, it's important to decide if it's worth possibly risking your friendship, or at the very least, having to establish a new kind of friendship. "It doesn't happen all the time but it's an important thing to keep in mind if it comes up," Thomas Edwards, founder of The Professional Wingman, tells Elite Daily. Unfortunately, there's always a chance they may not respond the way you want them to, which may make things a little awkward between you for a bit. Give it some time. "Remember, you did just reveal something you've been hiding from the person you probably share everything with, so it'll take a little time to get over. But soon, that moment will become a distant memory and be replaced by creating quality experiences together that highlight your friendship."
If you're wondering whether you should or shouldn't tell your crush how warm and fuzzy they make you feel inside, you may want to consider spilling the beans if you notice any of these signs.