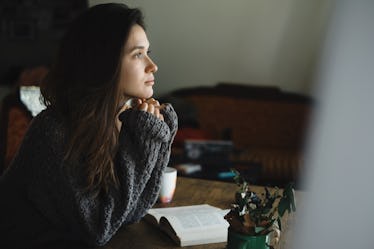 Experts Say These 5 Things Mean You're Overthinking To The Point Of Exhaustion
Hi, my name is Julia, and yes, I will be analyzing every bit of this conversation when it ends. OK, I'm exaggerating — well, sort of. Overthinkers, such as myself, are prone to pick apart everything, down to the smallest details of conversations, events, and even body language. Of course, it's normal to think about things; humans are naturally curious beings after all, but when there are blatant signs you overthink situations too much, you might want to take a step back and think about why you overthink, what it's doing to you mentally, as well as physically, and ways you might be able to relax a bit.
Please forgive me, because if you're someone who overthinks to begin with, then it's likely I've started a vicious cycle in which you're overthinking the fact that you're an overthinker (yes, I am aware at how incredibly meta this all sounds). Being a strong critical thinker isn't a bad skill to have; delving into a winding thought process is only an issue when said issue becomes a fixation.
You've probably heard the saying, "It's not what you say, it's how you say it." Well, the same can be applied to how you think. It's not what you think that's the problem, it's how you approach the subject, and how much time you spend inspecting each minute detail of things you most likely couldn't change, even if you wanted to.
Maybe you don't even realize you're the dictionary definition of an overthinker, and you might assume that it's totally normal to feel at war with the inner workings of your mind every five seconds. Well, I'm here to tell you to chill or be chilled, because overthinking typically does more harm than good, and you're better off knowing when you're getting yourself worked up and how to stop it before things get worse. Here's how you can tell if you're overthinking things to the point of completely exhausting yourself.