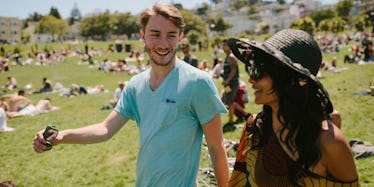 4 People Explain How They Told Their Crush About Their Feelings & It's Inspiring
Putting yourself out there and vocalizing your feelings in dating can be scary — no matter how sure you are of someone's response. By saying how you feel, you're opening yourself up to the real possibility of being hurt. It can be something you rack your brain for days: what to say, how to say it, and when. What if it's too soon? What if you're worried they won't return the same feelings? I spoke with a handful of people on the internet about their own experiences so you can decide how to tell your crush you like them.
These people shared their own experiences, varying from preschool grand romantic gestures to late-night texts. But what all these people have in common is that they expressed their feelings, braved the possibility of rejection, and set themselves up to experience something potentially awesome.
See, that's the wildly exciting part of sharing what you feel with someone else — sure, you can end up hurt. But maybe you taking the first step in revealing how you feel can be the jump start to your love story with that person. You really don't know unless you try, so shoot your shot, folks!