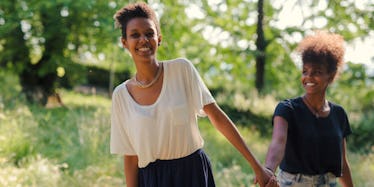 3 Tips For Feeling Like Your Most Amazing, Confident Self Around Your Crush
Crushes are exhilarating: You feel excited, nervous, and terrified all at the same time usually. You want to impress them, you're scared of rejection, and you plainly want to spend time with that person. Gaining enough confidence to talk to them through text or in real life, ask them out, or even just say hi can feel like a mountain to overcome sometimes. You don't want to make the wrong move. If you're worried about how to feel confident around your crush, that is totally understandable.
It can feel stressful trying to figure out the right text to send, let alone even getting to that point at all. You want to show interest, but in the right way, you know? You have feelings for that person, and want to act on it, but may be a little scared about what would happen if you did put yourself out there to only face rejection. I spoke to relationship expert April Masini about things you can do to improve your confidence and exude who you really are that to the person you like. It's not always easy, that's for sure, but you can give these steps small tries to gain some more confidence.