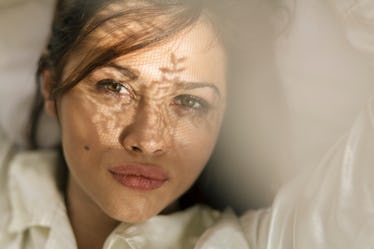 4 Sneaky Ways To Tell If Someone Likes You By The Way They Look At You
Figuring out if someone likes you can feel like trying to solve a very complicated riddle. Sometimes you feel so certain that they're sending flirtatious vibes your way, and other times you're convinced they must be staring at someone else who's your exact same height and standing directly behind you. (Ugh, hate it when this happens.) How to tell if someone likes you based on how they look at you might seem a bit far fetched, but it's actually totally legit.
As it turns out, there are several visual cues that could mean someone is totally into you. In a nutshell, those smoldering eyes people give each other when they're interested is known as the copulatory gaze, according to a 2016 study published in the U.S. National Library Of Medicine. This come-hither look is surprisingly one of the most scientific ways to measure attraction based on instinct.
And after all, it only takes roughly 100 milliseconds for our eyes to see someone and process whether or not we would want to mate with them, the same study reports. To get the full breakdown on interpreting if someone is into you based on their gaze, Elite Daily spoke with love biologist Dawn Maslar and relationship expert Susan Winter.