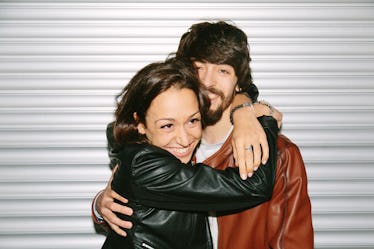 If You've Ever Had These 3 Thoughts About A Friend, Chances Are You're Into Them
Back before I was officially in a relationship, I used to get crushes on my friends all the time. I put a lot of love and energy into the people in my life, so it's really no surprise that the line between friends and potential lovers got a little blurry sometimes. I would find myself having all the usual "I wonder" thoughts that mean you're crushing on a friend when we spent time together, and would ultimately realize I had to decide if I was just having a passing attraction to them, or if my feelings meant there was something deeper between us that I could pursue. I usually went the route of continuing as just friends, but occasionally, I decided to take a risk and try for something more. Sometimes it worked out, sometimes it didn't.
As it turns out, my experiences are far from uncommon. According to Andrea Amour, founder and dating coach at UpDate Coaching, catching feelings for the people close to us can happen all the time. "It's extremely common to have a crush on a friend," she tells Elite Daily. "In fact, I'd even say in many friendships where both people are single, someone has a mild crush on the other at the beginning of the friendship. That's because a relationship equals a friendship plus attraction. If you're attracted to the other person, chances are you'll crush on them. If you're not attracted, your thoughts stay focused on friendship."
If you suspect that your feelings for a friend have tipped into something more romantic, these are the kinds of thoughts the experts say might confirm it.