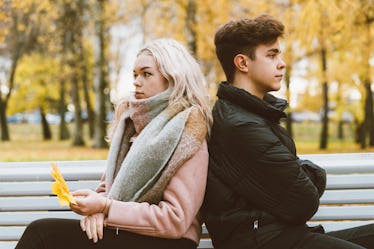 Consider These Dating Behaviors Warning Signs Someone's Losing Interest
Natalia Gdovskaia / EyeEm/EyeEm/Getty Images
Dating someone new can simultaneously be the most exciting and terrifying thing on the planet. Your relationship can be going swimmingly one minute, and the next they're leaving you on read and unfollowing you on Instagram. This lack of honest communication from a crush can be super frustrating, especially if they never even really told you why they were pulling away to begin with. It sucks, but dating behaviors that mean they're losing interest are easy to spot if your gut is telling you something's not quite right.
This ambiguity makes dating so much harder to navigate. You can sense something is off, but they aren't vocalizing how they're feeling. Are they really slipping away, or are you just "paranoid"? The truth may end up hurting, but sometimes knowing the facts can be better than getting stuck in relationship limbo. So how do you know what they're really feeling about you if they aren't talking, and you're not ready to ask?
According to Trina Leckie, a breakup coach and host of the Breakup BOOST podcast, it's all about that paying attention to their behavior. "People show you through their actions how they feel about you. You know when you feel confident in the relationship versus feeling like the two of you are drifting apart," she tells Elite Daily. If you suspect the person you're dating is losing interest in you, here are the warning signs to be on the lookout for.