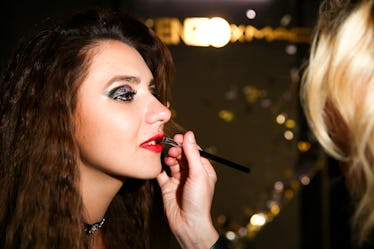 MAC Will Be Giving Out Free Lipstick On National Lipstick Day & I'm Determined To Get 'Em All
Richard Bord/Getty Images Entertainment/Getty Images
How am I celebrating National Lipstick Day on July 29, you ask? I'll probably start my day selfie-ing while rocking a my-lips-better nude in a sheer, créme formula. After lunch, I'll bless those around me with the opportunity to see me apply a slightly bolder choice — maybe something pinker, with a little metallic action. And later on, when National Lipstick Day becomes National Lipstick Night? I will slap on a long-lasting, highly pigmented red liquid lipstick and dance the night away. Sounds great, right? That's because I've already got an extensive lipstick collection to choose from. If you want to join the party but are lacking slightly in lippie options, allow me to spill all the deets on how to get free MAC Lipstick for National Lipstick Day.
Yes, I said free, as in zero dollars, and yes, I said MAC, as in iconic makeup brand MAC Cosmetics — the one with the huge beauty counter your mom had to drag you away from while running errands in Macy's, or maybe the one you saved up all your teenage coins to splurge on one of its Viva Glam collaborations with your favorite celeb. For a long time, MAC lipsticks have been highly symbolic of the beauty community as a whole: Most makeup lovers have a favorite shade (hello, Velvet Teddy) and formula (I'm a Cremesheen gal). They're the definition of a cult-favorite product, and even though they've been around since the '80s, they're as relevant now as ever before, thank you very much.
I'm going to assume you're heard of MAC, but it's very possible that you're unfamiliar with the upcoming holiday that is National Lipstick Day. On July 29, lipstick lovers everywhere will celebrate their love for the perfect nude or most outrageous statement lip, and MAC will join in on the fun by offering free lipsticks to its beloved customers.
Actual video of me preparing myself for National Lipstick Day:
On any normal day, a MAC lipstick retails for about $18.50. On National Lipstick Day, however, the brand will be offering a collection of nine popular throwback shades — absolutely free — for U.S. customers who show up at its stores in time, with no additional purchase necessary.
If you're desperate for a freebie, plan on showing up early, as even though MAC's planning on gifting over half a million lipsticks in total, it's likely most locations will run out pretty quickly, as they'll have around 100 lipsticks per store. If there's ever been a time to wake up early, grab a venti Starbucks, and stake out the MAC store's parking lot, it's now. Some of us do this every weekend, but like I said, I've got a pretty big lipstick collection as a result, so who's the real winner here?
If you don't live near a MAC Cosmetics location, you can still snag a deal on its website. Online, customers will be able to receive a free lipstick only if they're already ordering $25 worth of product. You'll even get free shipping as part of the deal! It's not quite as sweet as the in-store, no-purchase-necessary deal, but hey, we lipstick lovers can't always be choosers. And if you're wondering how to hit that $25 with ease, might I suggest either of two favorite best-sellers: Prep + Prime Fix+ ($26, maccosmetics.com), a magic mist to refresh your makeup all day long, or the Mineralize Skinfinish in "Soft and Gentle" ($34, maccosmetics.com), the most perfect glowy sheen that's been a cult favorite since long before we were highlighting every inch of our bodies.
Me, trying to play it cool, but overly excited about the notion of free makeup:
According to Bustle, the nine shades offered as freebies are a wide range of colors, from neutrals to pinks to a classic fire-engine red. True tan "Tanarama," nudes "Aloof" and "Delish," and bubblegum pink "Florabundi" make up the lighter half of the collection, while hot pink "Moxie," cool purple "Epic," red "Dare You," bronzy "Chintz," and black cherry "Mixed Media" are out here serving statement realness. Even if your dream shade is long gone by the time you reach the store, I can guarantee your second-string pick will be just as fab (partly because they're all stunning, partly because they're all free).
If you're willing to risk it all (aka wake up early and wait in line) for some free lipstick, then consider National Lipstick Day your personal Olympics, with a brand new lippie as your potential gold medal. On July 29, let the games begin!