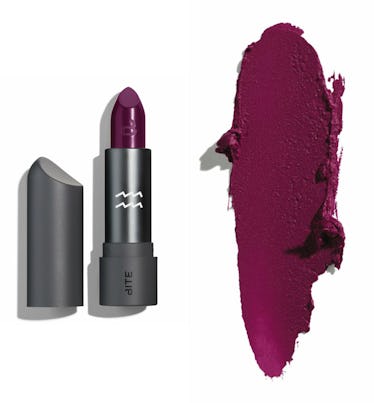 Bite Beauty Is Launching A Lipstick For Each Zodiac Sign & I Finally Believe In Astrology
Bite Beauty
If you've been in the market for a new shade of lipstick that speaks to who you are, get excited. Bite Beauty's astrology lipsticks, a new range of shades inspired by each star sign, mean your perfect hue is not that far out. If my cosmic calculations are correct, your written-in-the-stars shade will be here soon. No, I will not stop with the space-inspired puns.
First announced by beauty sleuth @TrendMood1, the collection is forthcoming and people are already jazzed. In the initial sneak preview, one side of the photo shows a huge range of lipsticks that look to be a part of Bite's regular collection. "Hanging out with @bitebeauty finding out about their new astrology collection," the photo reads. On the other side of the image shows a tube of lipstick that looks to be a deep plum shade. The water-bearer symbol is on the tube, which makes sense considering the caption for the image, which reveals that it's the Aquarius lipstick.
Bite Beauty has confirmed that on the 20th day of each month, the brand will launch a new shade of lipstick based on the month's corresponding astrological sign. What an amazing b-day present for your horoscope-and-lipstick loving friend!
Bite Beauty Astrology by Bite Limited Edition Amuse Bouche Lipstick - Aquarius ,$26, Sephora
As we're currently in the age of Aquarius, the Bite Beauty Astrology by Bite Limited Edition Amuse Bouche Lipstick - Aquarius ($26; sephora.com) is now available. Considering the birthstone for Aquarius is the amethyst, which is a deep purple, the shade makes total sense. A press release from the brand explained the process.
Aquarius is an air sign, ruled by the planet Uranus. Aquarius is the sign of inventors, pioneers, radicals —unique individuals who like to disrupt the status quo. Aquarians are on the cutting edge, tapped into higher-consciousness, and aware of the cultural current, "what's next." Find them motivating groups, managing teams, and totally ruling (or even inventing) the latest social media app. For cutting-edge, social and creative Aquarians, BITE imagines a reinvented classic: A modern berry with a satin finish, perfect for standing out in group selfies!
As for the rest of the zodiac, we just have to trust in the galaxy that our individual shades will speak to us, as none of the 11 other colors have been revealed.
I'll admit that I am not into astrology whatsoever. I find it interesting and check my horoscope irregularly (usually when I'm on my "Will I be single forever?" vibe) but I definitely don't know which month each sign corresponds to or the typical personality traits of a Libra or Aries. Of course, I know about my sign (shoutout to my fellow Leos!) and that its flower is the sunflower (my favorite), it's color is gold (also love), and its birthstone is ruby (meh). Although I'm not super into ruby jewelry, it has me thinking that a new red shade from Bite might be arriving in July, which, as a regular sported of the red lip, has me very excited. You can never have too many red lipsticks!
Bite Beauty Astrology by Bite Limited Edition Amuse Bouche Lipstick - Aquarius ,$26, Sephora
Aside from the personal feel to it, the other great part of this collection is that it's coming from Bite, a beauty brand I respect and love. That might sound overly dramatic, but it's true! A relatively new brand, Bite launched in 2012 and makes all of its products with food-grade ingredients, meaning no unhealthy chemicals get in or onto your body when you use them. Win! What's more, Bite infuses its products with resveratrol, which is a powerful natural antioxidant (the same one found in red wine!) that helps skin look healthy and refreshed, so their products won't send your lips into flaky oblivion.
I've been to the Bite Beauty Lip Lab in New York City and actually got a customized shade made while there. I still have the tube of the deep berry shade to this day (it's my favorite to wear during the cold winter) and love it so much for its smooth texture and long-lasting wear. When you find a lipstick that you love, it's a beautiful thing.
I can't wait to add an undoubtedly fiery hue to my collection (s/o Leos!) and can't wait to see how Bite interprets all of the other signs into their respective hues. The mystery colors are literally written in the stars.