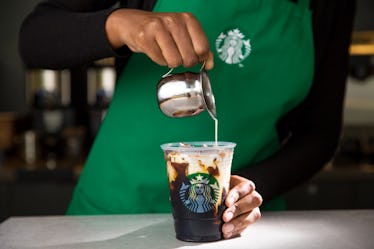 You Can Get BOGO Espresso Drinks At Starbucks' Happy Hour This Week, So Drink Up
Starbucks is here with the happiest time of the week. The Seattle-based coffee chain is bringing back its happy hour deals on Thursday, July 26, for patrons to enjoy. The afternoon deal includes buy-one-get-one espresso-based brews, so now you can get your caffeine boost for a discount. This is one of my favorite coffee deals out there. Starbucks' July 26 Happy Hour includes BOGO espresso drinks, so you and a friend can enjoy together.
If you're searching for an afternoon pick-me-up, look no further than Starbucks' Happy Hour. On Thursday, July 26, if you buy an espresso drink from Starbucks, you'll get one free. The offer is only valid on espresso beverages that are grande size or larger, so you won't be able to order a tall and get another one at no-cost. The Starbucks menu is your oyster, per se, when it comes to what's included in this beverage bargain. Starbucks offers a plethora of espresso-based drinks (hot and iced) for you to choose from.
My personal favorite is Starbucks' Iced Caramel Macchiato. I love the mixture of bitter espresso and sweet milk, so this is definitely what I'll be ordering at Starbucks' July 26 Happy Hour. Usually, I will ask for an extra shot or two of espresso to be added to the drink, but I think I'll pass this time. Instead, I'll order a second espresso drink of equal size, so I can power through my afternoon. You can also try out one of the chain's newer beverages, like the Iced Vanilla Bean Coconutmilk Latte.
Like most happy hours, Starbucks' starts midday. If you are planning to stop by and grab a brew, set your alarm for 3 p.m. because that's when the deal starts. If you can't make it during the afternoon, don't worry because Starbucks' Happy Hour extends to closing hours. Store hours vary from location to location, so check with your local Starbucks shop before you go.
There are some additional things to know before you go. First, you will need to be invited to the Starbucks Happy Hour in order to score your BOGO drinks. If you're scratching your head but still angling for your afternoon caffeine fix, I'm here to help. There are two ways to be included in Starbucks' Happy Hour deals. You can do this by becoming a Starbucks Rewards Member or by signing up for Starbucks' Happy Hour emails. Each method requires a bit of a different setup, so you will need a gift card, star code, or valid email address to get started. Whichever route you decide to go, you won't regret it. Once you are all set up with your Starbucks account, download the Starbucks mobile app available for iOS and Android devices.
Open the Starbucks app and click "Inbox" at the top of your screen. This is where you will gain access to the (mostly) weekly Happy Hour promotions. It will automatically open up to your "Messages" folder where you should see the Happy Hour deal loaded to your account. Show the barista your barcode to scan when ordering. Voilà! You have successfully taken part in the Starbucks Happy Hour.
You won't have to check the folder every week, though. Starbucks will send a notification to your phone the day before or the day of Happy Hour to remind you about the deal. Just make sure you have notifications for the app turned on. Cheers!