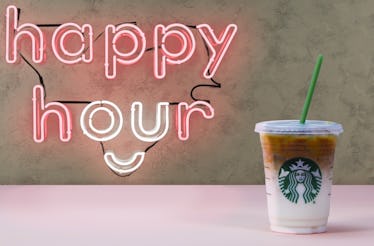 Starbucks' Happy Hour Deals Are Finally Back & Your Wallet Will Thank You
The words "happy" and "hour" are without a doubt a few of my favorites — and when you throw "Starbucks" into the mix, it's a freakin' triple threat. If you don't already see where I'm going with this, allow me to explain: Starbucks is bringing back its annual Happy Hour, and this year sounds sounds better than ever. However, there's a teeny, tiny catch: In order to reap the benefits of the special, you have to be invited. If you're getting Mean Girls "you can't sit with us" vibes, don't! It's easy to get involved. For those of you wondering how you can get invited to Starbucks' Happy Hour, get your phones out — you're going to need them.
In order to take advantage of Starbucks' Happy Hour events, you must be a Starbucks Rewards member. Rewards members will be notified via their Starbucks app about invitations, and the offers will be loaded onto their phones. If they wish to redeem their offer during a specific Happy Hour, all they have to do is tell the barista they'd like to redeem upon ordering a drink. Starbucks Rewards members also have the option to redeem their Happy Hour offers ahead of time. In other words, Rewards members are the VIP guests of Starbucks' Happy Hours, and we should all get on their level.
If you're not a Starbucks Rewards member, you still have a chance to get on the party list. Starbucks announced that the first Happy Hour of the season will take place on Thursday, March 29, in the United States and Canada. If you're a Rewards member, you probably already got the invitation (lucky you), but if you're not, you can sign up to be invited. To sign up for the first Happy Hour of 2018, click here. All you have to do is provide your name and email address, and Starbucks will put your name on the "list." Then, if you visit Starbucks on March 29 after 3 p.m. ET, you can get 50 percent off any handcrafted espresso beverage. However, before you get your beverage, you must show the barista the code you've been given upon signing up (it should have appeared on your screen). It's that simple.
Even though everyone can technically be invited to the first Happy Hour of the season, Starbucks Rewards Members are the only people who will get notified about upcoming Happy Hour events. (However, you can keep yourself up-to-date about the deals if you've provided an email address and chose to engage with Starbucks digitally, per the company's press release.) Starbucks' decision to invite the public to Happy Hour events online came from its ultimate goal of strengthening digital relationships with customers.
Matt Ryan, executive vice president and chief strategy officer for Starbucks, talked about the promotion in a press release. He said,
With nearly 100 million customers in our stores every week, we're looking for more opportunities to engage directly and personally, providing them with special benefits and offers that are meaningful. This shift in Happy Hour is just one example of how we can further establish, strengthen and develop digital relationships with our customers.
Oh, and if you remember Starbucks Happy Hours only involving discounted frappuccinos, think again. This year, Happy Hour deals will also include espresso beverages, iced teas, and more. This is awesome news for caffeine lovers on a tight budget, and I'm so ready for all of the deals.
If you're not a Rewards member, make sure to sign up for Starbucks' first Happy Hour of the season on March 29. But if you are a Rewards Member, have fun being VIP at Starbucks Happy Hours for the rest of the year.