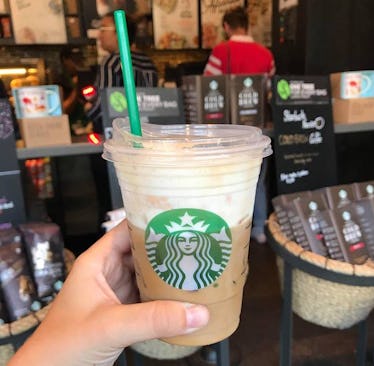 I Tried Starbucks' Iced Vanilla Bean Coconutmilk Latte & It's My New Summer Go-To
Lizzy Rosenberg
Most people treat their go-to Starbucks order almost like a home address, phone number, or last name. It's essentially personal information, and after years of ordering the same exact thing on a daily basis, it's practically impossible to order anything else. I mean, deviating from a regular order could lead to chaos, or even worse: buyer's remorse. However, if you're wondering what Starbucks' new Iced Vanilla Bean Coconutmilk Latte tastes like, I can tell you all about it — and it's definitely worth digressing from that regular order of yours. Trust me.
When I took my place in line at Starbucks in the wee hours of the morning, I knew that something revolutionary was about to happen: I was about to stray from my normal order. Despite the panic and fear you'd imagine I was feeling, I was weirdly OK with it. My regular small iced coffee with light ice and extra soy milk could wait until my 3 p.m. coffee break, couldn't it? I was about to try my first Iced Vanilla Bean Coconutmilk Latte, and little did I know that it was about to change my freaking life.
OK, maybe I'm over-exaggerating a little bit, but I will say this: The Iced Vanilla Bean Coconutmilk Latte was super creamy, very refreshing on this hot summer day, and definitely catered to my secret intolerance to lactose that I often (regrettably) tend to ignore. For my fellow non-sweetened coffee drinkers, the vanilla taste is relatively subtle, and the taste of the coconutmilk was also extremely faint. So, if coconuts really aren't your thing, it shouldn't deter you from ordering this gorgeous caffeinated beauty, like, at all. The coffee taste definitely doesn't fail to shine through, and it certainly got me up-and-at-em to start my day.
Alexandra Svokos, Senior News Editor at Elite Daily, also tried the drink. She thinks the vanilla taste balances out the bitter taste of the coffee. Svokos said, "It tastes like someone dropped a scoop of vanilla bean ice cream into an iced coffee, which is to say, it's very tasty. It's a great blend of bitter coffee taste plus sweet vanilla bean/coconut milk."
The new Iced Vanilla Bean Coconutmilk Latte was released alongside the Salted Cream Cold Foam Cold Brew on Tuesday, July 10. According to Starbucks, both beverages were added to the permanent menu, so they're forever here to stay. I will say that they're both perfect for this hot summer weather, but both of them will be available year-round. So, as a wintertime iced coffee drinker, you better believe I'll be ordering both of them today, tomorrow, in December, and until the end of time.
If you're curious about the Salted Cream Cold Foam Cold Brew, it's basically a Starbucks cold brew coffee that's sweetened with a hint of caramel. The drink is then topped with a salted cream Cold Foam, and if you think I'm not going for this one next, think again. Oh, and if you're all about the environment, you should know that the Salted Cream Cold Foam Cold Brew actually comes with a new strawless lid. Yep, you heard that correctly. You can sip on that tasty cold foam totally guilt-free. You're welcome.
So, the verdict? The Iced Vanilla Bean Coconutmilk Latte is definitely worth your while... especially if you're all about that dairy free life. It's the right amount of sweet, and even though it's perfect for the heat, it'll be here for the foreseeable future. I know I said I'm not super into trying new things at Starbies, but now I'm on a roll. I'm totally going for the Salted Cream Cold Foam Cold Brew next, and there's nothing that any of you can do to stop me.