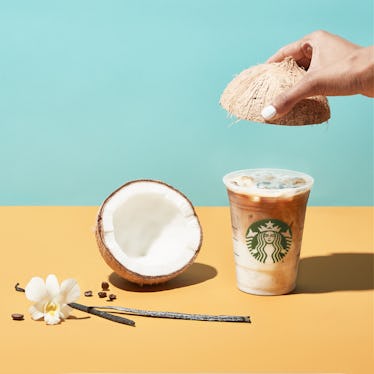 Starbucks Is Dropping New Cold Coffee Drinks & They're Perfect For The Summer
Starbucks
Get ready to play around with your morning coffee order, because Starbucks is adding two new cold drinks its menu. Both of these new sips are also the perfect way to cool down when the morning summer temperatures are hotter than you'd like. Starbucks' Salted Cream Cold Foam Cold Brew and Iced Vanilla Bean Coconutmilk Latte arrive on the menu on Tuesday, July 10, and they are here to stay.
At first you might wonder how you can fit another delicious Starbucks beverage into your current coffee-order rotation, but you will definitely want to make room for these new chilly beverages. Beginning on Tuesday, July 10, Starbucks stores in the United States and Canada will begin offering the crave-worthy beverages on the permanent menu, per Starbucks. The drinks are perfect for whatever flavor you might find yourself craving, too.
The Salted Cream Cold Foam Cold Brew starts out with Starbucks' Cold Brew coffee that is sweetened with a touch a caramel, and the refreshing sip is topped with a salted cream cold foam, according to Starbucks. It sounds like it has just the right amount of sweetness and caffeine to get your day going. Plus, the Salted Cream Cold Foam Cold Brew comes with a new strawless lid, so you can sip the delicious cold foam and cut down on plastic waste.
If you like a little more flavoring with your morning jolt, you can opt for the Iced Vanilla Bean Coconutmilk Latte. While this sip is syrup-free, it still brings the flavor when it combines a creamy vanilla bean coconutmilk over ice, with your caffeine coming from shots of signature espresso poured over the top. Since the drink features coconutmilk, it's also a great "milk alternative," according to Starbucks.
Even if dairy isn't an issue for you, the Vanilla Bean Coconutmilk Latte sounds like a delicious way to beat the heat this season.
While the Salted Cream Cold Foam Cold Brew and Vanilla Bean Coconutmilk Latte are undoubtedly a couple of delicious cold beverages that will make sweltering summer days more bearable, you'll be happy to know that you can enjoy them all throughout the year.
It's always so sad when your favorite limited-edition flavor leaves the Starbucks menu, but that won't be a problem with these two new offerings on the permanent menu. So go ahead and make either (or both) of these new cold drinks a part of your regular Starbucks order, because they are here for good.
In other Starbucks news this week, the coffee company announced on Monday, July 9 that it plans to eliminate single-use plastic straws by the year 2020. Within the next two years Starbucks plans to have all of its stores around the world provide only "strawless lids and alternative-material straw options," per Starbucks.
With over 28,000 Starbucks locations worldwide, the coffee chain predicts that these changes will help eliminate over "1 billion plastic straws per year" from its stores.
You can get a feel for what the strawless lid is like when you order the Salted Cream Cold Foam Cold Brew. From my experience, the plastic lid had a wider opening than you're used to with the cold-cup lids used with straws, so you can actually sip the cold foam through the widened opening without having the tasty stuff get stuck to the top of the lid.
If you really like the cold foam sips, you can also try a fruitier version with Starbucks' Summer Sunset Cold Foam Tea Lemonade. Not only is the limited-time drink totally perfect for the season with flavors like pineapple and Passion Tango herbal tea cold foam, but its bright hue will also make the best addition to all of your Instagram Stories this summer.
With plenty of new drink options on the menu, you are sure to find the Starbucks sip that is just right for you.