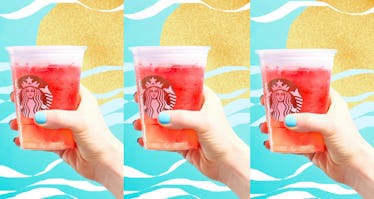 Starbucks' New Summer Sunset Cold Foam Tea Lemonade Is Here & It's Insta-Worthy
Starbucks
Summer is meant for sitting at the beach and watching the sunset on a romantic date, or after a day of fun in the sun with your best pal. While you are hanging out, watching the sunset usher in a pretty mix of oranges, reds, and yellows that slowly begin to fade into the night sky, you may be wishing you had an ice-cold beverage to sip on (or to 'gram about). Not to worry, because I've got the perfect suggestion. The colorful new Starbucks' Summer Sunset Cold Foam Tea Lemonade is here, and it is the picture-perfect edition to any sunset.
The new Summer Sunset Cold Foam Tea Lemonade is going to be your go-to drink for the summer (and the one you won't be able to stop Instagramming). This is for the several reasons that follow, in order of importance, of course. The first reason being that the Summer Sunset drink is only available for, well, the summer. The last thing you want to do is show up to Starbucks to order this iced tropical treat, only to find out that is has been pulled from the menu. What a bummer that would be. The drink launches on Friday, June 22 at Starbucks locations across the United States and Canada. This means you only have so much time to slurp down a Summer Sunset Cold Foam Tea Lemonade from Starbucks — and you are not going to want to miss out on its lively summer flavor.
The second reason is the taste, obviously. The Summer Sunset Cold Foam Tea Lemonade is like drinking a cup of tropical paradise. The brew brings together some of the summer's most exotic tastes, such as sweet and juicy pineapple and the classic picnic drink of lemonade. These two flavors are combined together by the barista and poured over ice, but there is still more to come. The Summer Sunset drink is then topped with a luscious and silky-smooth Passion Tango herbal tea cold foam, according to Starbucks. The drink does contain milk, so if you are allergic to dairy or simply don't consume it, take note before your order. These ingredients make a seriously pretty drink, which brings me to my next and final reason of why the Summer Sunset Cold Foam Tea Lemonade is going to be your drink of choice from Starbucks this summer.
The Summer Sunset Cold Foam Tea Lemonade is absolutely stunning. That may seem like a strange thing to say about a beverage, but just look at it. This picturesque beverage starts out with a rich pink hue on the top that delicately fades into a lighter yellow color at the bottom, just like the sunset. In fact, the Summer Sunset Cold Foam Tea Lemonade was even "inspired by dramatic sunsets," according to Starbucks. If that description of the ombré-colored fruity beverage isn't enough to make you whip out your camera to share on your Instagram Story or feed, then I don't know what is. All I know is that this drink was meant for taking photos of, especially if you can capture a beautiful beachside sunset in the background.
Just remember that the Summer Sunset Cold Foam Tea Lemonade (along with its sister beverage, the Summer Sunrise Cold Foam Tea Lemonade), is only available for a limited time. The start of summer is Thursday, June 21, which means you've got plenty of time to enjoy both new beverages, but don't wait too long. With a drink as Insta-worthy as the Summer Sunset Cold Foam Tea Lemonade, the sooner you post it to your social media feeds, the better.