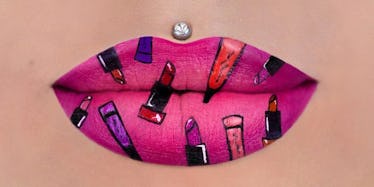 This Artist Creates Mesmerizing Lipstick Looks On Instagram And We Can't Get Enough
Jazmina Daniel/ Cover Girl
It may be the weekend, but that doesn't mean that you're required to overlook your makeup game in favor of hangover hair at brunch. In fact, today is National Lipstick Day, so it's an even better time to break out that lip scrub and bring your A-game. And if you need inspiration, makeup artist Jazmina Daniel has you covered.
Daniel creates the most incredibly detailed, delicate looks to share with her more than 1 million followers on Instagram.
The makeup artist creates everything from pride rainbows, to celebrity tributes, to (you guessed it) Disney-inspired looks, all using nothing more than makeup and her own lips.
It gets better: CoverGirl announced on July 29 that they'll be partnering with Daniel, and she'll be providing the brand with insight into beauty trends. Daniel created the above image of her lips decorated with lipstick and lipstick tubes to announce the partnership.
Just a request: can she please work with them on how to create a stamp-on version of these purple flower lips?
Her looks can be bright and nature-inspired...
... or some of them are more night-oriented. (Like, literally.)
 Speaking as someone whose red-lip look sometimes resembles The Joker if I'm not paying attention with the makeup brush, this is all super impressive, particularly the parts where she paints a face onto her own face.
Like, some of us have enough trouble painting the face that we already have, much less getting all Inception about it.
Well then.
She's got plenty of pop culture tributes.
And — OF COURSE — Classic Disney.
Like, WHAT IS THIS MAGIC.
She has Harry Potter. ON HER LIPS.
But seriously, her looks shine. (And glitter, too!)
Daniel puts the looks together and shares tutorials both on her Instagram and her YouTube channel, where she has over 50,000 subscribers. So if you're looking at getting ambitious for National Lipstick Day, you know where to go.
Of course, these are gonna be a little time-consuming if you're thinking about wearing them out for mimosas and eggs benny. Not going to blame you if you want to give it a shot and try to rock one, though — just maybe plan on drinking through a straw.