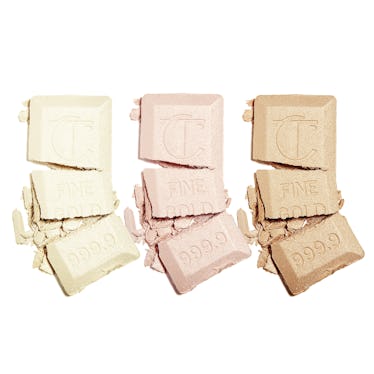 Charlotte Tilbury Is Launching A New Highlighter Palette To Literally Gild Your Face In Gold
Courtesy of Charlotte Tilbury
Over the past few months, I've accumulated an unreasonable amount of highlighters. Why, you ask? I'm totally addicted to a shimmery, sparkly sheen — however, even I know it's gotten out of hand. There are only so many high points on my face to highlight! Resigned to this truth, I've been hard at work decluttering my highlighter collection, and I've sworn off purchasing any new releases as well. I've been rigid about my new rule, and felt proud of my self-imposed restraint... that is, until I heard about Charlotte Tilbury's Bar of Gold Highlighter Palette, and knew immediately that it had to be mine.
Not only is this particular new palette wildly stunning (we'll get there), but I also feel a personal tie to it. My very first highlighter was none other than a Charlotte Tilbury staple, the Filmstar Bronze and Glow ($68, charlottetilbury.com). Gifted to me by my equally beauty-obsessed sister, the palette instantly became my ride or die, and I felt more chic and glamorous with each use. The high quality payoff and luxurious packaging justified the price point, and I soon became obsessed with the entire Charlotte Tilbury brand. At the moment, the Hollywood Flawless Filter ($44, charlottetilbury.com) is my liquid highlight of choice. Fully aware of how great their other highlighting products are, I feel justified in breaking my no-shopping rule to pick up the new palette. Plus, just look at it.
Their motto for the palette? "This summer wear nothing but gold." OK, Charlotte, don't mind if I do!
The new palette is a trio featuring three shimmery shades of gold, rose gold, and bronze. If the "Original Gold" shade looks familiar, then you've likely been blessed enough to have experienced the brand's original Bar of Gold Highlighter ($42, charlottetilbury.com), a product so best-selling that it is constantly sold out, including right now.
As for the other two shades in the new palette, "Rose Gold" is a pinky color with a blush-like sheen, and "Gold Bullion" is the perfect finishing touch for a sun-kissed, bronzy summer look. Think of the original highlighter as the Beyoncé of golds, and the palette as a Destiny's Child reunion featuring only their best hits. It's the most perfect, radiant trio. Can't you see the resemblance?
It's uncanny, I know. Sadly, that GIF of Destiny's Child dancing is as close as you can get to seeing the new Bar of Gold Palette in action at the moment, as it won't be available for purchase on the Charlotte Tilbury website until Monday, July 9. Fortunately, the site offers a waitlist beauty lovers can join to be notified the second the palette goes on sale. You can sign up here, if you want to.
According to the Charlotte Tilbury team, the "magic" behind these highlighters lies in pure gold pearls meant to leave the skin looking perfected and illuminated. The formula is described as a "light-reflecting high-tech 'wet' powder," perfect for creating a glow that appears shiny and dewy, not glittery or powdery.
While you wait for the Bar of Gold Palette to become available, feel free to indulge in the brand's other incredible highlighters, so I can live vicariously through you without further breaking my no-spend rule. (Thanks in advance!) Like I said earlier, this isn't the brand's first rendezvous with highlighters — they have some of the best in the biz.
The Filmstar Bronze and Glow ($68, charlottetilbury.com) is a bronzing and highlighting duo beloved by many for its convenience and airbrushed finish.
The Hollywood Beauty Light Wand ($38, charlottetilbury.com) is also a pretty popular item, thanks to its unique cushion applicator and soft-focus luminosity.
If you're looking for an all-over glow, the Hollywood Flawless Filter ($44, charlottetilbury.com) is your best bet and also my personal favorite. The extra large doe-foot applicator lets you apply directly onto high points, all over the face, or mix into your foundation or moisturizer to customize the perfect level of radiance for you.
Based on the success of the above formulas, I have total faith that the Bar of Gold palette will be equally as luminous and lovely. Start referring to my cheekbones as Cardi B and Bruno Mars, because once I get my hands on this palette, they'll be dripping in finesse. And by finesse, I mean shimmering, golden glow. That's the same thing, right?