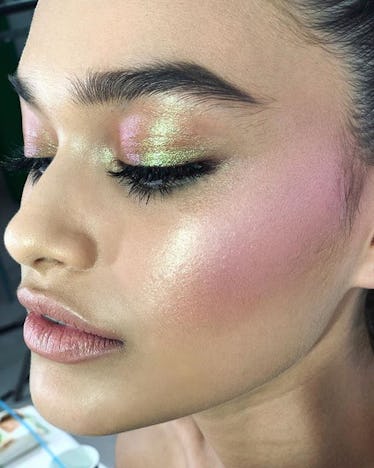 This New Palette Features The Most Blinding Highlight Ever & It's At Sephora Right Now
Natasha Denona
At this juncture, it's hard to believe any brand can release a highlighter more blinding than the next. If a highlight so bright it literally hurts you eyes hasn't been released yet, then it literally can't be done, right? Well, the Natasha Denona Diamond & Blush Palettes contain the most blinding highlighter of all time, you might not want to stare directly at it without proper sunglasses.
Seriously, if you're a true glow-getter, you might want to get out your credit card now. YouTube beauty star Natasha Denona went mainstream this past year with amazing eyeshadows that sparkled so hard it made Mariah Carey quake in her rhinestone-stunned, glitter boots. The finish, along with the super pigmented formulation and smooth application, hit the scene and vloggers everywhere were clutching their pastel ombré wigs. Seriously, Natasha Denona was the name on everybody's lips (and the shadow on everyone's eyes).
Diamond & Blush Palettes, $89, Sephora
Now, she's releasing her Diamond & Blush Palettes at Sephora and the internet is shook. Days before official launch, Denona teased the ridiculously blinding illuminators in a series of Instagram videos that left everyone wondering, "what literal witchcraft is that?" The highlight was so intense it rivaled the Photoshopped flare highlight trend, but there was no editing to be seen. No KiraKira app involved. The product just shines like an actual diamond.
Luckily, we didn't have to wait long to find out what this magical, mystical product was. On Jan. 12, Denona revealed the product on her Insta-story, and the beauty sphere responded with a resounding "hell yes!" Denona announced the Diamond & Blush Palettes.
Have you ever seen such a beautiful highlight? How is it so unbelievably reflective without appearing metallic whatsoever? It's truly the great mystery of 2018.
The $89, giant six-panned palettes come in two colors: Darya, which contains pinky peach shades of blush and highlighter, perfect for light to medium skin tones, and Citrus, containing bronze and bright pink hues, ideal for medium to deep skin tones, as well as a totally unpredictable bright lime-tinted yellow hue.
Seriously though, that slightly green yellow highlighter? That is very intriguing to me. A shade like that certainly hasn't been done before.
Diamond & Blush Palettes, $89, Sephora
Natasha Denona has always embraced glowy skin as a part of her makeup artist and teacher philosophy, but these new palettes really take the cake. I mean, they look good enough to eat.
Each blush and highlighter palette contains a glow cream, a diamond powder, a cream blush, a powder blush, a duo chrome highlighter, and what Denona refers to as "Extreme Glow."
Seriously, have you ever seen a highlight this resoundingly bright?
This Twitter user got it right. Peace out to all my hard-earned cash. The glow, though, is worth it.
As a makeup artist, I've been exposed to every illuminator, highlighter, and glow stick imaginable, and I've never seen anything as powerful as this.
Because Natasha Denona loves her fans as if they were her own children, she also announced the launch of her new Duo Chrome Top Coat in conjunction with the Diamond & Blush palettes, that way we glow all over our entire faces.
Duo Chrome Top Coat, $28, Sephora
Duo Chrome Top Coat, $28, Sephora
There are three new rainbow hues in the Top Coat collection: Burnt Terracotta/Green, Lavender/Gold and Silver, and Browan Mauve/Purple.
Between the new diamond highlights and Duo Chrome Chroma Crystal toppers, you can finally embrace the glowing, mystical unicorn that you were always meant to be.
You can purchase and the Diamond & Blush Palettes and the Duo Chrome Top Coats right now on the Sephora website. If you're looking to embrace the sparkly glitter trend for 2018, then these products will put you on the right track.