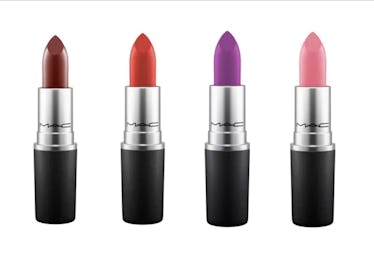 This Makeup Artist Makes Teeny, Tiny Sculptures Out Of MAC Lipsticks & They're So Mesmerizing
MAC Cosmetics
Everyone has their hobbies. Some people play sports, others make music, and if you're on Instagram, you'll see lots of people who opt for makeup as their creative outlet of choice. Tons of accounts belong to influencers showing off glamorous looks, pretty packaging, and some serious smizing, if video tutorials are their thing. A scroll through the Instagram beauty community's posts is always entertaining, but if you're hoping for a slightly more artistic approach, then Theresa Nakhoul's MAC Lipstick sculptures should be right up your ally.
With 30.9K followers on Instagram, Nakhoul appears to be on a personal mission to emphasize the "artist" in "makeup artist." To showcase products with formulas and color stories she enjoys, Nakhoul skips standard swatches and creates bonafide art out of her makeup instead, usually in the form of portraits or eyes drawn onto her forearms in the typical swatching zone. The idea of using eye makeup to illustrate eyes is so meta, and the results are seriously stunning, so it's not surprising that these posts have gotten her profile some major attention. Nakhoul used a ton of beauty guru-favorite palettes when creating her swatch sketches, including the Jaclyn Hill x Morphe Palette, the Huda Beauty Rose Gold Remastered Palette, the Tarte Cosmetics Tartelette in Bloom Palette, along with other cult favorites.
In videos like the one below, she shows the step-by-step process for creating her masterpieces, and it's seriously mesmerizing to watch.
While her 2-D drawings are undeniably impressive, Nakhoul has actually taken things up a notch as of late and is now creating 3-D sculptures out of the bullets of M.A.C. Cosmetics Lipsticks ($18.50, maccosmetics.com).
Yes, you read that right. She is quite literally carving into lipsticks like Michelangelo carved into marble. And honestly, the results are just as good and chock full of intricate details. See for yourself:
Just as she does for her swatch art, Nakhoul often shares a behind-the-scenes look at the sculpting process via videos as well. If I weren't able to watch the process on repeat myself, I honestly wouldn't believe these are real.
I, for one, am gushing over this obvious display of talent, but believe it or not, there are some who see Nakhoul's hobby as a major waste. "Why would anyone want to ruin their lipstick like this?" one commenter asked. This sentiment was echoed by many others. Some were impressed enough to entertain the craft, but questioned Nakhoul's choice to use high-end lip products, claiming she should be using cheaper items if she intends to put them to waste.
Nakhoul appears unfazed by these responses and rightfully remains proud of her little creations. Her Instagram bio even reads, "Allegedly wasting makeup ✌🏼" as a nod and swift dismissal to any negative feedback, and she continues to post both her lipstick sculptures and eyeshadow drawings, all while letting the compliments drown out the haters.
Nakhoul's primary platform is Instagram, but she does have a YouTube channel linked in her bio that currently has a little under 200 subscribers. I'm sorry, but why are we all not subscribed? This absolute talent even has a video of her freehand recreating a scene from Michelangelo's "The Creation of Adam." Out of makeup.
Yes, she is quite literally recreating images from the Sistine Chapel upon her own arms, purely using the power of makeup! I love a cultured, artistic, talented beauty guru queen! Give Nakhoul a follow and keep your fingers crossed she treats her followers to more YouTube content soon — I am hoping for some lengthier lipstick bullet carving videos, stat.