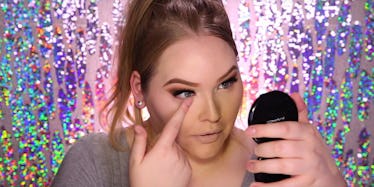 This Beauty Guru Does An Incredible Makeup Tutorial With Just Her Fingers
YouTube
If you're a beauty lover, you've definitely heard of Nikki Tutorials.
The Dutch makeup vlogger has 5 million devoted subscribers to her YouTube channel. Want to know if a palette is worth the big bucks? Nikki is your girl, spending hours showing off complicated cosmetic looks and testing out new product launches.
She's even done makeup collaborations with big-time brands like Too Faced Cosmetics (see The Power of Makeup by Nikkie Tutorials collection).
This week, the beauty powerhouse took her talents to new heights with a fingers-only, full-face makeup challenge. And the results are highly impressive.
Instead of using her extensive (and pricey) collection of brushes, Nikki dabs on foundation, concealer, eyeshadow, and more using only her hands. She manages to create eyebrows that aren't just blobs, and somehow blends multiple shades of eyeshadow perfectly.
By the time she presses on her dazzling highlighter as the grand finale, you're amazed that she's pulled the look off.
If the video of Nikki in action looks like pure magic to you, you're not alone.
My question is: Why the hell are we all spending money on makeup brushes if this skill level is possible? (Well, besides hygiene...)
If you're reading this Nikki, I'm currently accepting mentors and also best friends who can do my makeup sometimes.