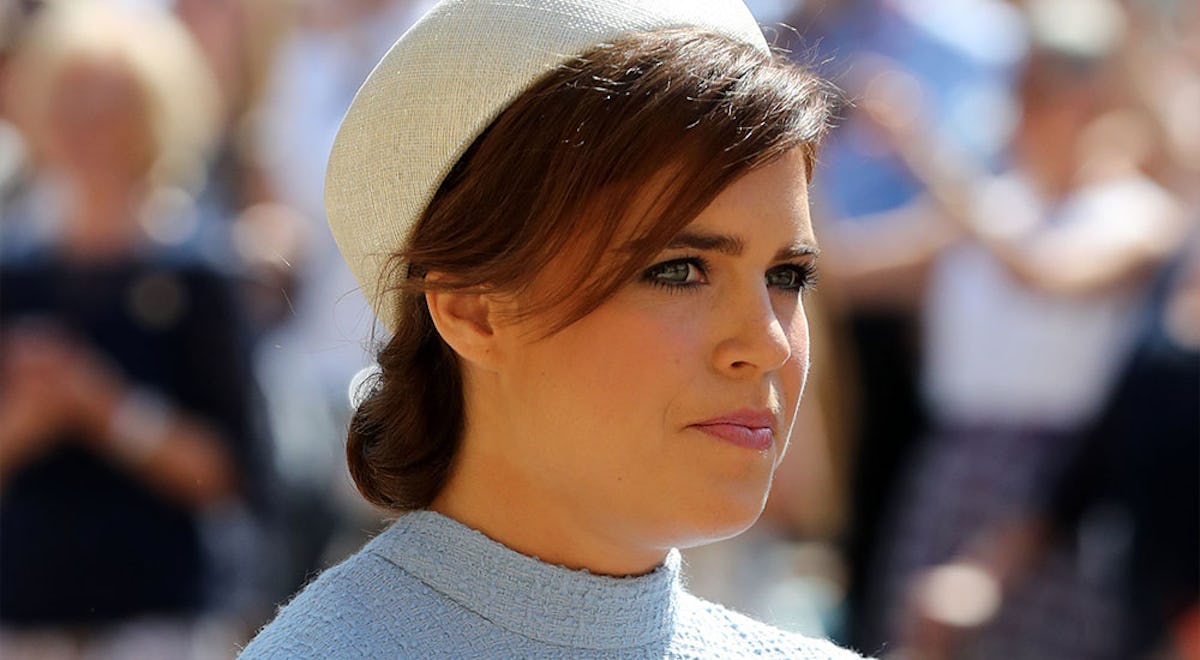 Here's Why Princess Eugenie Can't Wear A Tiara Until Her Wedding, Even Though She's Already Royal
WPA Pool/Getty Images Entertainment/Getty Images
As Princess Eugenie's royal wedding day nears, it seems more and more people are looking to brush up on their royal knowledge so that they can tune in to the ceremony and have a clue as to what royal rules and restrictions are at work. Whether or not you knew much about Princess Eugenie before she announced her engagement, it's time to get familiar, because I stan a proactive, charitable princess with a great sense of style. If you are a longtime fan, you might've noticed how big the princess is on hats, and how often she uses them to accentuate her ensembles — in fact, they're currently her only headwear option, as Princess Eugenie can't wear a tiara yet, despite the fact that she's a princess by birth. Why, you might be wondering, is Eugenie being prevented from the opportunity to accessorize so glamorously? Turns out, it's an ages-old rule that the royal family maintains to this day.
It's no secret that the royals have an abundance of strict rules to follow when it comes to appearance. Light or nude nail polish shades are encouraged, and nude pantyhose are practically mandatory. The queen will definitely throw you some side-eye if she sees you sporting wedges, and even Meghan Markle's signature messy bun has undergone a royal transformation into a slightly more chic chignon. If you want to be a royal, you've got to look the part, and there are as many rules about what a royal must wear as there are about what they can't.
If it's been a while since you've seen a good tiara moment, please enjoy this photo of Queen Elizabeth II, accessorized to her heart's content. Seriously, the royal headpieces are so beautiful, it's hard to imagine not wanting to wear one on the daily:
However, the queen certainly doesn't wear a tiara every day, even though in reality, she's the only one allowed to do so. Technically, the only royals eligible to wear crowns and tiaras from the official Crown Jewels collection are the queen herself and the queen's spouse or companion — everyone else can only wear pieces the queen chooses to lend them. Don't think she's being stingy when it comes to Eugenie, though: it's a royal tradition that unmarried women not wear tiaras in public.
So, even though Princess Eugenie can rock a hat like nobody's business, she isn't allowed to wear a tiara until she's officially married:
While this has no doubt been a serious bummer for Princess Eugenie over the years, the good news is she's only got a few more days until she can start rocking tiaras on the reg — or, as often as Queen Elizabeth II allows her to. It's practically guaranteed that Eugenie will debut her tiara-wearing-abilities at her actual wedding ceremony, where many think she'll don the York Tiara, worn by her mother, Sarah Ferguson, on her wedding day to Prince Andrew, Duke of York.
FYI, If the queen lent me this for even half a second, I would absolutely take it and run. The York tiara is so, so stunning, and it's the ultimate finishing touch for a bridal look:
While nothing has been confirmed, people are pretty sure the queen will be more than happy to lend Eugenie the York tiara for her big day. After all, she lent Meghan Markle Queen Mary's Diamond Bandeau tiara for her wedding day, and she also lent Kate Middleton the Cartier "halo" tiara.
Here's Meghan Markle rocking her bridal tiara moment:
And here's Kate Middleton in her Cartier tiara. I dare you to pick a favorite out of the two, because it's impossible:
Needless to say, Princess Eugenie will rock tiaras as effortlessly as she's pulled off her many hats over the years, and I can't wait to see her tackle a new kind of headpiece, especially one as sparkly as the York tiara. Consider Eugenie's first official tiara moment just one more reason I'm over-the-moon excited for her wedding on October 12.