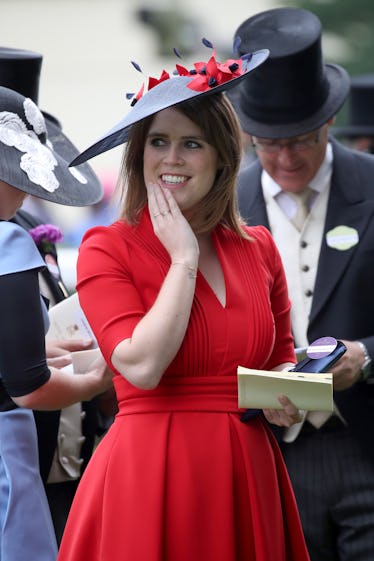 Here's What We Know About Whether Princess Eugenie Will Wear A Tiara — & Which One — On Her Big Day
Chris Jackson/Getty Images Entertainment/Getty Images
Perhaps one of the most iconic things about Princess Eugenie of York is her tendency to rarely be seen without a fabulous hat. While hats are a major part of formal British garb, Princess Eugenie in particular has a knack for picking some serious statement stunners. But with her wedding fast approaching, her guests will be the ones donning their finest hats to witness her nuptials. Since she can't wear a wild hat on her big day, many are wondering if she'll be donning a different type of headpiece: So, will Princess Eugenie wear a tiara on her wedding day? I've done some royal research to find out.
After her wedding to Jack Brooksbank was postponed as a result of Prince Harry and Meghan Markle's busy schedule, Princess Eugenie — whose name you're probably mispronouncing, BTW — will finally get her time to shine on Friday, Oct. 12. And even though her wedding won't be as highly publicized as the other royal couple's, it will still be a major affair. There are almost as many speculations about her big day attire, not just about her gown, but about her headpiece as well.
In case you aren't aware, Princess Eugenie can rock a hat, fascinator, or headband like nobody's business:
I know she's a princess, but she's Eugenie, ~Queen of Hats~ to me:
Incredible, right? But back to the wedding plans. On Meghan and Harry's big day, people weren't sure whether or not Markle would wear a tiara, but she did, in fact, end up blinding us peasants with Queen Mary's Diamond Bandeau Tiara. This led me to wonder what kind of headpiece Eugenie will be rocking on her big day.
When it comes to the two royal weddings, there are different rules for Eugenie and Markle, given that the former is already royalty, while the latter was marrying into royalty. Eugenie can wear whatever shade of nail polish she wants or even throw on some wedges. She can document her life on her Instagram, and she can even rock a cleavage-bearing minidress to the altar. (She prob won't, but she has the option!) Since the rules are seemingly less strict in certain ways when it comes to Princess Eugenie's wedding, I wasn't sure if there were rules regarding whether or not she would be wearing a tiara.
In general, the only ones actually eligible to wear the crowns and tiaras from the official Crown Jewels collection are the queen herself and the queen's consort, or the spouse/companion of the current monarch. For anyone else to don the pieces, the queen apparently has to lend them out. She lent them to both Middleton and Markle on their big days, and it's likely that Eugenie will get to wear one, too.
In fact, if she does wear a tiara, it will be her first time wearing a tiara. Can you believe this headpiece kween has never rocked one?
It just so happens that, per royal tradition, unmarried women are typically unable to wear tiaras in public. Can you believe our Queen of Hats has been denied this opportunity up until now? I'm upset for her. Should she choose to sport a tiara on her wedding day, it's possible that Eugenie will wear the York tiara, the same one her mother wore on her wedding day to Prince Andrew, as royal brides will typically don a family heirloom.
You know I'm a fan of Eugenie's hats, but they simply don't compare to this regal masterpiece. The York tiara is nothing short of stunning:
It's a gorgeous piece, and with Eugenie's flair for headpieces, I can totally see her pulling it off. It's likely we won't know for sure what she'll be wearing until the big day arrives, but I'm confident that the happy couple will look beautiful — and that none of her guests' hats will live up to her own wedding-attendee looks in the past, because no one does it like the Queen of Hats herself.