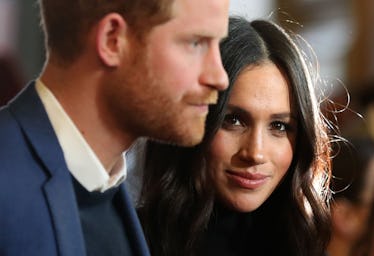 Meghan Markle Won't Wear A Tiara On Her Wedding Day Unless One Major Thing Happens
WPA Pool/Getty Images Entertainment/Getty Images
The first thing I usually think about when I hear the words "royal wedding" is a glistening tiara worn by the bride. In fact, I can't imagine a royal ceremony without a diamond-studded crown... so I can't help but wonder if Meghan Markle will wear a tiara at her wedding. If you're wondering the same thing — don't fret. It's not a silly question, and the answer might shock you.
It turns out Markle will only wear a tiara on her wedding day if Queen Elizabeth II lends her one, according to a Yeoman Warder who talked to me about it at the Tower of London this week. That's right: The royal-to-be isn't automatically qualified to wear a tiara from the Crown Jewels collection just because she's marrying Prince Harry. In fact, the Yeoman Warder tells me the only people eligible to wear a crown from the official Crown Jewels collection are Queen Elizabeth and the queen's consort (aka, the husband, wife, spouse, or companion of a reigning monarch).
However, since Markle is marrying Prince Harry, the queen can lend her a tiara to wear for her special day. In that case, the princess-to-be will be wearing a crown to her wedding. Markle and Prince Harry will be getting married on May 19 in St. George's Chapel at Windsor Castle in England, and I hope she's dripping in diamonds during the ceremony.
Believe it or not, this isn't the first time a royal-to-be isn't exactly "qualified" to wear a tiara at her own will. If you remember correctly, Kate Middleton — aka Catherine, Duchess of Cambridge — only wore a tiara at her wedding because Queen Elizabeth II lent her one. Yup, it turns out these ladies don't have as much free reign when it comes to the Crown Jewels as you might've thought they did. Who knew?
Middleton married Prince William, Duke of Cambridge, on April 29, 2011. The queen gave the duchess-to-be a Cartier Halo Scroll Tiara to wear during her special day, according to Elle. The dainty tiara held a white veil that complimented her Alexander McQueen bridal gown beautifully. In case you missed out on the royals' big day, allow me to refresh your memory on how gorgeous Middleton looked when she walked down the aisle:
Beautiful, I know. The royal look wouldn't have been complete without the queen's borrowed tiara, and I'm hoping she's feeling just as generous for Markle's wedding. I mean, c'mon, it'd only be fair if she was given one, too, right?
In all seriousness, the Crown Jewels are truly breathtaking, and wearing anything from the collection would be a total honor (and a dream come true, if you're a non-royal... like me). To be honest, I never realized how detailed and ornate the royal tiaras were until I saw them in person.
During a trip with American Express Travel, I was taken on a private tour of the Crown Jewels at the Jewel House in the Tower of London. Throughout the tour, I was able to see royal regalia up close, and let me tell you... it took my breath away. Our passionate tour guides brought us on a journey through hundreds of years of the Crown Jewels, and I was completely blown away by the collection. FYI, the collection is still being used by the queen for royal ceremonies — and if something is off display, there will be an "in use" sign where it'd usually be. Pretty cool, right? Let's hope the next tiara that's "in use" will be worn by Markle on her wedding day.
If you wish to see the Crown Jewels before the royal wedding (or during your next trip to London, England), you can buy tickets online to the collection by clicking here.