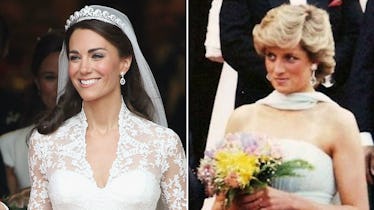 Kate Middleton's Wedding Was Eerily Similar To Princess Diana's & The Details Are Unreal
Chris Jackson/Getty Images, Georges Biard
It's pretty undeniable that every royal wedding looks to be straight out a fairytale. There's glitz and glamour, and, of course, literal princes and princesses, so really, anyone who thinks otherwise is ignoring the obvious. And royal weddings aren't just a big thing in recent years, either. In fact, hyping up royal weddings has probably been going on ever since the existence of a king or a queen. But what I find to be astonishing is how much history can repeat itself, especially when it comes to the weddings in the royal family. Case in point: When Kate Middleton married Prince William seven years ago, their royal gathering looked so, so similar to the wedding of Prince William's parents, Prince Charles and Princess Diana — and a lot of it has to do with the royal ladies. Kate Middleton's wedding compared to Princess Diana's wedding is eerily similar, in more ways than just one.
OK class, settle down, because it's time for a little history lesson. Y'all are about to get schooled.
Back in 1981, Diana Spencer married Prince Charles of Wales, the eldest son of Queen Elizabeth II. They're wedding, by all accounts, was fancy as hell, and was dubbed "the wedding of the century." So yeah, I guess you could say it was a pretty big deal.
Flash forward to 2011, when Prince William — son of Princess Diana and Prince Charles — married Kate Middleton, now the Duchess of Cambridge. Considering "an estimated two billion people" watched their ceremony on television, according to Cosmpolitan, I'd say that their wedding was equally as epic as Prince William's parents' wedding.
But the similarities between both weddings doesn't stop with both being widely talked-about. Let's get into some of the finer details, shall we?
Kate Middleton and Princess Diana wore the same engagement ring.
Given a selection of rings from Garrard Jewelers, apparently Princess Diana chose her own engagement ring when Prince Charles proposed. She went with a massive 18-carat oval sapphire ring surrounded by a band of diamonds. It's said that some believe the Queen actually chose the ring for her, or Diana chose it simply because "it was the biggest."
Can't even blame her.
After Princess Diana's death in 1997, her engagement ring was kept in the family, and ultimately, Prince William used the ring to propose to Kate Middleton. When Prince William was asked about the ring on a British news channel, he said,
It's my mother's engagement ring, and it's very special to me, as Kate is very special to me now as well. It was only right the two were put together ... It was my way of making sure mother didn't miss out on today and the excitement and the fact that we're going to spend the rest of our lives together.
BRB, crying.
They both wore wedding gowns with extremely long trains.
The most widely talked-about detail of a wedding is, without a doubt, the bride's wedding gown. Add the fact that it's a royal wedding, and you've got yourself some worldwide conversation, not just gossip from the guests who attend the wedding. According to Good Housekeeping, Princess Diana's wedding dress was "created by husband-and-wife design team David and Elizabeth Emanuel" and was made of ivory taffeta with "elaborate embroidery, 10,000 pearls and a 25-foot-long train," adding that "no one's ever come close to replicating the stunning bridal look."
Look. At. That. Train.
Similarly, Kate Middleton's gown, designed by Sarah Burton for Alexander McQueen, was also ivory, but was made of satin and lace. While nothing can be as extravagant as Princess Diana's train, Kate Middleton's train came pretty damn close, measuring 9 feet long.
Both are long enough to knock over a bunch expensive things as you walk, in my opinion, pretty much making it an impossible dress for me to flaunt around town.
The train wasn't the only similarity in their wedding gowns: both feature sleeves, cinched-in waists, and one very sparkly accessory: a tiara.
Both couples took carriage rides after their wedding ceremonies.
Are you even a princess if you don't take a carriage ride with your prince? Both Diana and Charles and William and Kate left their wedding ceremonies in carriages, as royalty does.
In 1981, Princess Diana and Prince Charles left St. Paul's Cathedral in an open-roofed carriage to go to their reception:
Following the Duke and Duchess of Cambridge's ceremony at Westminster Abbey, the newlyweds also hopped into a carriage to go to their reception. The carriage bears a striking resemblance to the one Prince William's parents rode in on their wedding day:
You can't get any classier than a carriage as a means of transportation on your wedding day.
Both couples shared a post-ceremony kiss on the balcony at Buckingham Palace.
OK, time to cue the tears, because if this last similarity doesn't get to you, then I don't know what will.
So, unlike most wedding ceremonies, royal brides and grooms don't kiss at the altar — a bummer if you're waiting for that fairytale moment where the royal prince sweeps his new bride off her feet and kisses her. Even after a royal ceremony, kissing your newly betrothed is frowned upon, but Princess Diana and Prince Charles broke that tradition when, according to ABC News, they "spontaneously pecked" on the balcony at Buckingham Palace after their ceremony.
I know, scandal, right?
Fast forward three decades to William and Kate's wedding day, where history happened all over again. According to Us Weekly, the newly married Duchess and Duke of Cambridge "held back on their first post-wedding smooch on the Palace Balcony, April 29," but, "bowing the pressure of cheering fans they broke tradition and kissed again a few minutes later."
Like royal mother, like royal daughter-in-law.
So, while we prepare our tea and crumpets for Prince Harry and Meghan Markle's wedding in May, don't ever forget just how all of the incredible Windsor weddings we've seen in the past.