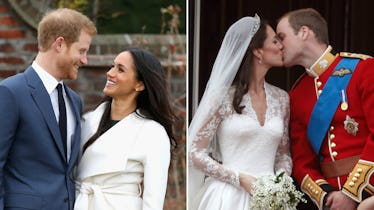 Meghan & Harry's Wedding Will Be So, So Different Than William & Kate's
Chris Jackson/Christopher Furlong/Getty Images Entertainment/Getty Images
I couldn't be any more hyped at the idea that we will once again be having another royal wedding. Believe it or not, it's been a whole 7 years since Prince Harry's older bro, Prince William, married the wholesome and lovely Kate Middleton. So yes, we are very prepared to break out our finest tea sets to watch Meghan Markle walk down the aisle to marry Prince Harry come this May. And, while every wedding is a (very expensive) unique snowflake, there are some weddings that seem a bit... unoriginal. The bride's gown is beautiful, the cake is white, the DJ plays the same song, blah, blah, blah. But if you so much as think that this royal wedding will be exactly like the last, I have some news for you. Meghan and Harry's wedding compared to William and Kate's is so, so different, and I'll tell you why.
Meghan and Harry's ceremony will be held at a much smaller church.
Fact: All royal weddings are elegant and regal. But that doesn't mean that the wedding ceremonies are all held at the same venue. William and Kate's wedding was held in Westminster Abbey, which is a famous church that is recognized worldwide. Though it's grand and beautiful, that's not where Meghan and Harry will be marrying. The couple will be marrying in St. George's Chapel at Windsor Castle, which is equally as beautiful, but not as large as Westminster Abbey. (For context, Westminster can hold 2,000 people, while St. George's can only hold 800.)
Here's what Westminster looks like:
And here's an interior shot of St. George's Chapel:
TBH, I think I'd faint walking down either aisle if there were anywhere from 800 to 2,000 people watching me. Good luck, Meghan!
The couple won't be having their wedding there solely because it's a bit more low-key, either. Apparently, there's a sentimental reason behind the choice of venue. According to a statement released by Kensington Palace, "Windsor is a very special place for Prince Harry and he and Ms. Markle have regularly spent time there over the last year and a half," and Prince Harry was actually christened there.
Welp, that's adorable.
Meghan and Harry's wedding date will not be a Bank Holiday.
When Prince William married Kate Middleton, the wedding day was declared a Bank Holiday throughout the UK, meaning that everyone was given the day off to basically watch the news and cry tears of happiness for the royal couple. Even Prince Charles and Princess Diana's wedding day (William and Harry's parents) was declared a Bank Holiday.
So why the hell is Meghan and Harry's wedding date not declared a Bank Holiday?
An official spokesman for British Prime Minister Theresa May have said that "there are no plans for a Bank Holiday," and that "there isn't a precedent in this area."
Ugh. Lame!
So, while a day off from work might not be in the cards, I have a strong feeling that a lot of people are going to coincidentally call in sick from work that day.
Just a hunch.
Meghan and Kate's wedding dresses will likely be very different.
I don't think anyone has forgotten how stunning Kate Middleton's wedding gown was. Designed by Sarah Burton for Alexander McQueen, the satin-and-lace dress with a 9-foot-long train was a show-stopper.
In case your brain is drawing a blank:
#BridalGoals right there.
But if you think Meghan Markle will be getting married in a traditional dress a là Kate Middleton, think again, because she already told the world her ideal wedding dress style. And, not to mention, we've seen Markle in a wedding gown before: Markle's first marriage to movie producer Trevor Engelson already gave us some ideas as to what we can expect from the soon-to-be royal:
Oh, hello, Grecian goddess. Nice to meet you.
Back in 2016 (pre-Harry, I might add), Markle described her idea of the perfect wedding dress during an interview with Glamour, regarding her character's storyline on Suits:
I have the luxury of wearing beautiful pieces of clothing every day for work, so my personal style—wedding or not—is very pared down and relaxed ... Classic and simple is the name of the game, perhaps with a modern twist. I personally prefer wedding dresses that are whimsical or subtly romantic.
Um, same, Meghan. Same.
She went even further by revealing her favorite celeb wedding dress, "Carolyn Bassette Kennedy," saying that her slinky Narciso Rodriguez silk gown was "everything goals."
I'm going to call it right here, right now: Meghan Markle's wedding gown is going to look much more like Pippa Middleton's Maid of Honor dress than Kate Middleton's royal wedding dress:
Form-fitting, simple, perfection.
There you have it, folks. It's time to put on your fanciest fascinator and get pumped for the next royal wedding, which will be ultra-gorgeous no matter what.