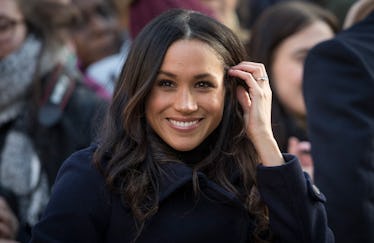 These Photos Of Meghan Markle's First Wedding Prove She Is The Most Beautiful Bride
Christopher Furlong/Getty Images Entertainment/Getty Images
Hi, hello, how do you do? If you're a fan of American actress Meghan Markle, chances are you're doing pretty great right now. Obviously her engagement to Prince Harry on Nov. 27 is pretty fantastic news, and just thinking about another royal wedding is giving me straight-up chills. We all know just how epic Prince William and Kate Middleton's wedding was in 2011, but at this point, it feels like that was eons ago. And I think the world is getting pretty pumped about seeing another beautiful woman get married to a prince — mainly because seeing the reveal of the wedding gown reduces most to tears. And luckily for us, we have definitive proof that Miss Markle is going to be absolutely stunning in whatever dress she chooses, because photos of Meghan Markle's first wedding are out in the world, and she looks like a pure Grecian goddess.
Yes, Meghan Markle was previously married! She and movie producer Trevor Engelson tied the knot in Jamaica back in 2011. Although the pair filed for divorce in 2013, citing "irreconcilable differences," we were still able to be graced with a few details about their wedding day, including Markle's dress. Clearly having a laid-back, island-style wedding, Markle's bohemian gown totally reflected that theme, and you guys, she knocked it out of the park.
Can we just look at this stunner:
Athena, is that you?
Oh, nope! It's just Meghan Markle looking like a straight-up ten outta ten.
Urban News Online described her wedding-day style best, citing:
Meghan was almost casual in a white sleeveless column dress, with only a silver belt adding a touch of glamour.
And adding:
The actress wore her hair down and a simple bangle on her wrist.
Simplicity is key, folks. Remember, less is more! (Unless you're going to be a princess. Then by all means, go absolutely NUTS.)
And, while her beachy-casual wedding totally worked for her first marriage, we're thinking that her next wedding is going to be just a tad more proper:
Perhaps a little less "intimate beach barbecue," a little more "sit-down feast for 500 guests?"
And, while it looks like her first wedding was full of bikinis and wheel-barrow races (how I WISH I could have participated in that), we're thinking that *probably* won't fly with the Queen (but we're not putting words in her mouth, because maybe she's cool with it?):
Might I just add in here that Meghan Markle's first wedding dress actually looks very similar in style to Kate Middleton's second, lesser-known Alexander McQueen gown that she wore to her reception? It will seriously make you do a double-take:
Empire waist? Check. Blingy belt? Check. Windswept hair down? Check. Mega-watt smile? Check!
Even though both dresses look gorgeous, I think it's safe to say that Markle's gown is just a little more low-key. And one thing we know for sure is that Prince Harry and Meghan Markle's reception will not be as *chill* as her first one with Engelson, where, according to Daily Mail, their outdoor reception was "complete with a marquee and lanterns and was held on the beach," and that Markle and Engelson "were also lifted in the air on seats during a traditional Jewish 'chair dance'."
Honestly, who needs a fun Jamaican destination wedding when you are LITERALLY MARRYING ROYALTY anyway?
My thoughts exactly.
Sorry, Jamaica, this girl is going to be keeping her eyes locked on Kensington Palace.
So, let's ditch the flip-flops and sunglasses and put on fascinators and our Sunday's best, because Meghan Markle and Prince Harry's wedding is going to be beyond our wildest dreams, and we cannot wait to see what the beautiful bride will wear.