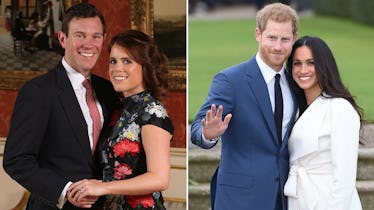 Princess Eugenie Had To Postpone Her Wedding Because Of Harry & Meghan, So That's Awk
WPA Pool/Getty Images Entertainment/Getty Images
When you're engaged, it can be difficult trying to find a wedding date that works for everyone. Maybe one weekend is free for your sister, but your BFF is out of town. Another weekend totally works for your favorite aunt, but won't work because your sorority sister will be away. And it turns out that royal families are no different, because Princess Eugenie's wedding has been postponed because of — yep, you guessed it — the other royal engaged couple, Prince Harry and Meghan Markle. But let's get a few facts straight before you start thinking it's because Harry and Meghan called dibs on a wedding date that Princess Eugenie and her fiancé Jack Brooksbank wanted.
By now, you're probably already aware of the fact that Princess Eugenie and Jack Brooksbank's engagement was announced on Monday, Jan. 22, in a statement from The Duke and Duchess of York:
The Duke and Duchess of York are delighted to announce the engagement of Princess Eugenie to Mr. Jack Brooksbank. Her Royal Highness and Mr. Brooksbank became engaged in Nicaragua earlier this month. The wedding will take place in the Autumn of 2018 at St. George's Chapel in Windsor, with further details to be announced in due course.
Lovely! Another royal wedding. Break out the tea and crumpets, people!
But according to The Daily Mail, a source has revealed that Jack and Eugenie's wedding was set for September, only to be moved because Prince Harry and Meghan Markle may be on royal tour around that time, so Jack and Eugenie have been asked to push back their wedding date to October.
But what if Eugenie has dreamt of a September wedding her entire life?
Sorry, not happening.
The source told The Daily Mail,
There is talk of a number of foreign tours for Prince Harry and Miss Markle this year, and September is a date that has been mooted. There is nothing concrete yet, but it looks as if Eugenie and Jack will go for October instead.
Do you hear that? SEPTEMBER HAS BEEN MOOTED, EUGENIE.
And apparently, Jack Brooksbank's maternal grandmother, Joanna Newton, was here to squash any dreams that maybe Meghan and Harry would be like, "We'll totally nix the foreign royal tours, NBD," because she confirmed to The Daily Mail that September is totally out of the question. She said,
I do know that they're now not going to get married in September. [Jack] said 'We can't get married in September now so we will have to get married in October.' [The royal family has] got something else going on then I think so they couldn't. So [Jack] just said that if they can't get married in September they will have to get married in October.
She continued,
Of course I shall be going to the wedding, I'm granny. It's very exciting because I'm a massive fan of the Royals and it will be lovely to meet them.
God bless granny.
So, is Eugenie furious that her cousin's plans are overshadowing her wedding? Apparently not (and honestly girl, that's inspiring), because the source also added, "They are fine with it. I don't think anything will overshadow how deliriously happy they are."
Well, that's sort of adorable. I mean, who needs your dream wedding date when you have your dream man, amirite?
Plus, Eugenie and Jack will be getting married at St. George's Chapel at Windsor Castle, which is totally gorgeous and not at all like — oh, what's that? Prince Harry and Meghan Markle will marry there just mere months before?
Well, we all have that one cousin who constantly upstages you. I guess royal families really are no different.