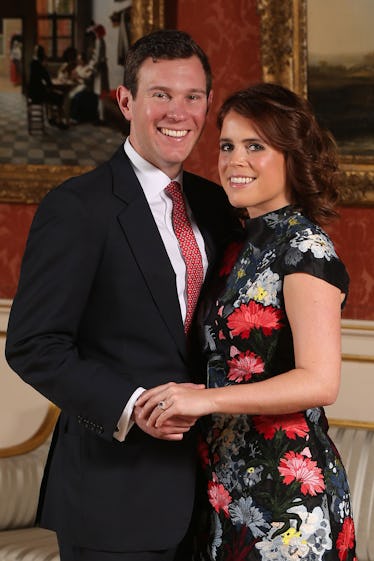 Princess Eugenie's Wedding Day Horoscope Predicts A Marriage Full Of Love & Commitment
WPA Pool/Getty Images Entertainment/Getty Images
Have all you hopeless romantics been aching for another royal wedding since Prince Harry and Meghan Markle tied the knot back in May? I hope you haven't put away the champagne and your quintessentially British headpieces just yet, because in just a few days, Princess Eugenie will be having her own wedding as well. If you're not a major follower of the royal family, I'll give you the lowdown on who this Princess Eugenie of York is. Aside from having an absolutely adorable name that immediately makes you think of high tea and blooming flowers at Kensington Gardens (maybe that's just me?), she's the first cousin of Prince William and Prince Harry, the granddaughter of our reigning Queen Elizabeth II, and she's also ninth in line to the British throne. And, in case you were wondering, Princess Eugenie's wedding day horoscope is beyond fascinating.
But before we get to how astrology is scheduled to influence a royal marriage, you're probably curious about who the lucky guy is. Like both Prince Harry and Prince William, Princess Eugenie will also be marrying what the royals call "a commoner." According to Town & Country Magazine, her fiancé, Jack Brooksbank, is the son of an accountant. So, if that doesn't give us ordinary folk hope for a future filled with crowns and tiaras, I don't know what will. Keep that in mind when you watch the royal wedding live on October 12, 2018.
They Chose A Somewhat Risky Date For A Wedding
I'm not gonna sugar coat it: Oct. 12, 2018 is probably not a date I would have chosen for my wedding. Why? Well, Venus — planet of love, romance, and affection — will be in retrograde during this time. When a planet that's so deeply intertwined with matters of the heart is undergoing apparent retrograde motion, its power is majorly subdued. In fact, when Venus is in retrograde, it's said that you should probably hold off on committing to major relationship changes, such as a break-up or a marriage. Instead of making rushed commitments, you should take time to reflect on the state of your current relationship or your overall perspective of love.
That being said, Venus retrograde does not automatically doom a marriage, especially when we're talking about Princess Eugenie and Jack Brooksbank. According to Town & Country Magazine, the couple met seven years ago and they've been madly in love ever since. And, as reported by The Cut, they announced their engagement way back in January 2018. I'd hardly call this wedding a "rushed commitment," as they've had years and years of getting to know each other and almost an entire year to plan the wedding.
Just to prove even further that this cosmic phenomenon is not a deal breaker, Will Smith and Jada Pinkett Smith's wedding happened when Venus was in retrograde (according to astrologer Karen Christino), and they've been happily married ever since. After all, the cosmos are constantly changing, and you can't stop your life just because a planet is in retrograde.
However, A Match During Libra Season Is Made In Heaven
Drama with Venus aside, the royal couple will be also getting married during what could possibly be the most romantic and relationship-oriented time of year: Libra season. In astrology, Libra rules over the seventh house of partnerships, making commitments of the heart and finding your soul mate a few of its central themes. This zodiac sign is always swooning for true love and nurturing harmony and affection wherever it can. So, because the sun will be in Libra while Princess Eugenie and Jack Brooksbank say "I do", they're bound to seal the deal with so much romance in mind. On all their wedding anniversaries to come, their marriage will be deepened with fresh spark of love. What's not to adore about that?
To make this marriage that much more exciting, the moon (which governs your emotions and your internal word) will be in expansive, spontaneous, and risk-taking Sagittarius. This ensures that the wedding will be a day filled with fun and courageousness, while it also infuses their marriage with an outlook toward brighter horizons. While there may be tons of rules that the royal family has to follow, you can bet that Princess Eugenie and Jack Brooksbank will have so many adventures in spite of them.