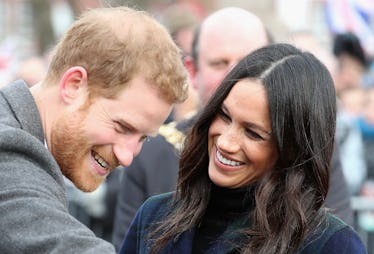 The Royal Wedding Date Is Actually Super Romantic, According To Astrology
Chris Jackson/Getty Images Entertainment/Getty Images
Can you believe the royal wedding is only a few more days away? It's such a fairy tale come true, it's almost hard to believe that on Saturday, May 19, it's actually going to happen. I don't know about you, but I think someone needs to pinch me ASAP so I can make sure I'm not dreaming. Although the vast majority of us won't be attending this sparkling event, I'm sure we're all eagerly waiting to hear about how it all goes. Luckily, the royal wedding day horoscope predicts a day full of romance, beauty, affection, and friendliness. I mean, how could it not be?
Although it's obvious Meghan and Harry are madly in love, a wedding as grand as theirs involves countless proceedings that must be executed successfully. Several questions are running through my mind: What if someone important is late? What if the wedding guests don't get along? What if someone trips and falls during the ceremony? What if Meghan's family drama puts a damper on everything?
While we won't have the answers until the wedding takes place, the astrological forecast indicates the event will be brimming with social connection, lively spirits, and positive energy. Even if errors are made, there's no reason why Meghan and Harry won't have a fantastic start to their marriage.
The Wedding Party Will Be Pure Excitement
There's no way the wedding party won't be a lovely and enjoyable affair when Venus forms a sextile with Uranus on the same day (May 19). Venus is the planet of romance, love, and friendship while Uranus is the planet of dramatic and sudden change. It's amazingly lucky that these planets will be working so well together on the day the wedding will take place.
When these two planets form a sextile, lively and creative social exploration ensues. Genuine affection, in the midst of prying eyes and overwhelming media attention, will be easy for everyone find. This planetary aspect supports a smooth and exciting transition for Meghan and Harry as they embark on the most important journey of their lives. It also will allow the royal couple to stay true to themselves on this magical day, to not let anyone or anything interfere with their happiness. Even though cameras will be filming them at every corner and journalists will be eagerly awaiting a slip-up, their core of true love will defeat any sort of negativity.
Meghan Will Adore All The Love & Attention
I have no doubt that Meghan will be shimmering with self-love, joy, and divine beauty as she walks down the aisle. Why? Well, since Meghan is a Leo, Uranus happens to be her love planet. Venus will also pour romantic energy into her 12th house of spirituality and inner grace. The sextile between these two planets forges a strong connection between her capacity for romance and her happiness that comes from deep within.
She'll also be starting an exciting new era as she gets acclimated to her duties as an important member of the British royal family with Uranus, planet of radical change, lighting up her 10th house of social status for the next seven years. Since Uranus is in Taurus — a zodiac sign known for stability, security, and long-term commitment — the astrological forecast is making sure that Meghan will be able to transition into her new role with ease.
Harry Will Be Ready For A New Adventure
The union between Harry and Meghan is already groundbreaking with the bride being the first mixed-race and American royal in British history. This marriage is bound to shake a few things up for the royal family and you know what? Out with the old and in with the new; Prince Harry is ready. With Uranus in his ninth house of adventure, expanding one's horizons, and most importantly, luck, there's no doubt Harry is looking forward to a brand new start with his future wife.
With Venus also infusing his 11th house of community and friends with goodwill, there's no way he won't feel anything but a deep connection to his peers, making him all the more excited about growing his family into something much larger. It's clear that Harry and Meghan's wedding day will definitely bring a lot of loved ones together, starting their marriage off on a harmonious note.