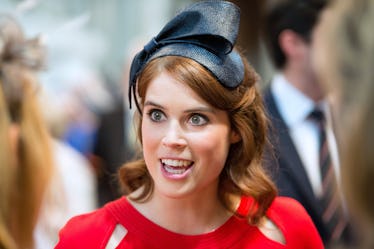 These Are The Rules Princess Eugenie — & Her Guests — Have To Follow For Their Wedding Day Attire
Jeff Spicer/Getty Images Entertainment/Getty Images
If I had a royal budget to pay a designer to create my dream wedding dress, I would let my imagination run totally wild. I'm sure Kate Middleton, Meghan Markle, and now Princess Eugenie all felt the same when it came to their royal wedding gowns... except, they couldn't actually let their imaginations run completely wild, because the royal family has some pretty strict rules regarding wedding day attire. There are various royal rules Princess Eugenie's wedding dress has to follow when she marries Jack Brooksbank on Oct. 12, but I know she and her designer of choice will be able to follow them all and still create something truly beautiful.
When Kate Middleton wed Prince William back in 2011 and Meghan Markle wed Prince Harry just this year, it was the bride marrying into the royal family, not the groom. This time around, Princess Eugenie is the one putting the "royal" in "royal wedding," which made me wonder: Will she have different rules regarding her wedding gown? Don't get me wrong, I honestly think she can pull off anything, but I can't help but wonder if she's got strict guidelines to follow when it comes to the lewk she'll be serving us on her big day.
Eugenie's style breakdown largely consists of bright colors, bold patterns, and shorter dresses. None of the aforementioned tend to be common in wedding dresses, so who knows what she'll choose to wear when Oct. 12 rolls around:
One thing's for sure: There are certain rules Markle and Middleton have to follow that Princess Eugenie, already a royal, but not a working royal, is exempt from. For one thing, she can reportedly wear any nail polish she chooses, so she doesn't have to stick to super-muted neutrals — although she often does.
As for her dress itself, while sleeves and a long hem were mandatory for Markle and Middleton, they aren't necessarily mandatory for Eugenie, though many predict her gown will still have both. Eugenie also won't be required to wear pantyhose or sheer tights, even though we all know the queen would prefer it if she did. Should she really feel like going against the queen's wishes, she can even wear wedges apparently. Did you know that the queen reportedly absolutely hates wedges? This makes me feel personally attacked, but I digress.
So, what is the royal protocol Princess Eugenie's dress must follow? Since she's only ninth in line to the throne (NBD), the rules are actually fairly lax. While her nails can be any shade, there's reportedly an unwritten rule that says her dress must be white or off-white — this was probably a given anyway, though Eugenie does love bold colors. A similar, technically unwritten but largely enforced rule is that Eugenie's tiara should be a family heirloom, likely the York tiara, worn by her mother Sarah Ferguson on her wedding day to Prince Andrew.
This is hardly a difficult rule to have to follow though, since the York tiara is beyond gorgeous:
TBH, the more I look at Sarah Ferguson's wedding day look, the more I secretly hope Princess Eugenie copies her mother completely, and goes for an off-white gown with poofy sleeves:
A fitted waist with statement sleeves? C'mon, people, we all know Princess Eugenie would slay that.
Funny enough, it seems that the attendees at Princess Eugenie's wedding will have to deal with a stricter dress code than the bride herself. Guests of previous royal weddings will note that, this time around, the rules are more intense than they were in the past. While men could wear oh-so-casual "lounge suits" (still pretty fancy, BTW) to Markle and Prince Harry's wedding, they apparently must wear formal morning suits this time around, per Town & Country.
Women, as per usual, will be required to wear day dresses and hats, and I am already psyching myself up to scroll through endless paparazzi shots of all the cool headpieces we'll no doubt see on the big day. Town & Country also notes that, according to etiquette expert Myka Meier, it's likely that a sheet with specific dressing guidelines will be sent out to further guide guests in creating their looks, as was done for Markle and Prince Harry's guests.
If any guests have questions on what to wear, they can totally revisit Princess Eugenie's own wedding guest attire, which was perfection at both Middleton's and Markle's weddings:
Apparently, blue is a great color choice!
Now that I know the specifics about what Princess Eugenie has to wear, I'm even more curious to see what she will wear. Oct. 12 can't come soon enough!