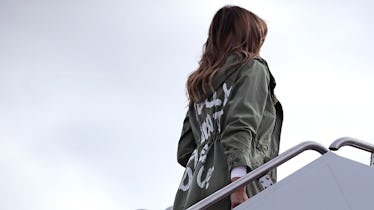 Here's What Trump's Staff & Family Are Doing While Families Are Separated At The Border
Chip Somodevilla/Getty Images News/Getty Images
It has been a generally difficult week to be tuning into the news. Over the past week, stories of families being separated at the southern border of the United States have proliferated, reaching a breaking point as President Donald Trump signed an ambiguous executive order that he says will keep families together. It seems as if the entire nation is following the lives of these families, and yet, the people closest to being able to fix the problem have been acting as if it's a trivial worry, if their public actions have been any indication. If you've been paying attention to what Trump's staff and family have been doing as families are separated at the border, you may have found yourself asking, over and over again, what are they thinking? From restaurant choices to sartorial ones, it's been an eyebrow-raising week.
Last week, a set of reporters were allowed to visit detention centers for children who crossed the border and were alone when they arrived or had been separated from their parents by the government. This raised awareness and, thus, questions about the administration's immigration policies, especially where it concerned children and those seeking asylum.
More than 2,000 children were separated from their parents at the border between early May and mid June, per the Department of Homeland Security. This is because of the "zero tolerance" policy, which was announced by Attorney General Jeff Sessions (a Republican and Trump appointee) in April. With that policy, all adults are taken away to be prosecuted for the crime of crossing a border, while all children are held in governmental centers.
This has caused a mass of protests, calls to Congress, donations, and general criticisms of the administration, which continues to falsely place blame on Democrats and Congress at large for the situation. As this is going on, Trump staff and family members have carried on with their lives, leaving us with these unbelievable moments.