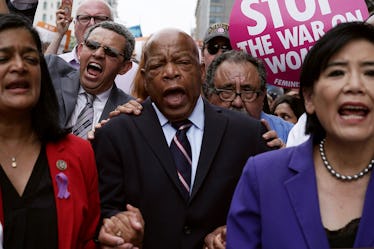 Here's How To Protest Families Being Separated At The Border
Alex Wong/Getty Images News/Getty Images
President Donald Trump's administration has shown no signs of reversing its "zero-tolerance" policy on immigration, which has led to migrants families being separated at the United States' southern border. To date, the policy has become arguably the single most controversial one of Trump's tenure in the White House, with Democratic — and also a good number of Republican — Congress members publicly calling for a change. One of Congress members has gone a step further, announcing the start of a movement that is sure to attract the attention of people wondering how to protest families being separated at the border.
The announcement came on Monday, June 18. During that night's airing of MSNBC's All In with Chris Hayes, Washington Rep. Pramila Jayapal informed viewers about the Families Belong Together movement, which will soon hold a rally in Washington D.C.
"We are absolutely ready to has mass mobilization. This is the first time we're talking about it, right here on the show. It's going to be June 30, at 11 o'clock, at Lafayette Park right outside the White House." Rep. Jayapal told MSNBC. "We have hundreds of organizations being anchored by the National Domestic Workers Alliance and Move On, but hundreds of organization that are part of the Families Belong Together coalition because we see the outrage and we see that this has to be taken right to the White House, right to Donald Trump, to stop the separation."
Jayapal also said that the rally would have sister marches nationwide, a model of protest that has been mirrored in past years by the March For Our Lives, the Women's March, and others.
In the days leading up to Jayapal's announcement, the Trump administration's "zero tolerance" policy continued make headline after headline, as reports from the American-Mexican border revealed layers of detail about how the administration was prosecuting migrating caught crossing into the country.
One of the more notable reports was published by Pro Publica, and features a recording of children crying after being separated from the parents with whom they were migrating.
In May, during a press conference in San Diego, Attorney General Jeff Sessions asserted that family separation is merely a consequence that comes with enforcing the law.
"If you cross this border unlawfully, then we will prosecute you. It's that simple," Sessions said at the time. "If you smuggle illegal aliens across our border, then we will prosecute you. If you are smuggling a child, then we will prosecute you and that child will be separated from you as required by law."
Since then, however, members of Congress have pushed back against the administration's policies. All 49 Democrats in the Senate have backed a bill that would put an end to family separations at the border.
Meanwhile, notable Republicans, like Nebraska Senator Ben Sasse, have publicly rejected the idea that the Trump administration is forced to pursue its immigration policy as currently enforced.
"The administration's decision to separate families is a new, discretionary choice," Sasse said in a statement. "Anyone saying that their hands are tied or that the only conceivable way to fix the problem of catch-and-release is to rip families apart is flat wrong. There are other options available to them."
Texas Senator Ted Cruz, who recently defended the administration's policy, introduced his own piece of legislation that would put an end to family separation, while looking to speed up the process for court hearings for those seeking asylum.
On Monday, however, White House spokeswoman Sarah Sanders indicated that the president would not entertain a bill that provides a narrow fix.
"The President doesn't just want to see a Band-Aid put on this. He wants us to actually fix our immigration system," Sanders said. "He's tired of administrations claiming that they want to help the system and then just kicking the can down the road. He wants to actually fix the problems. He wants to secure our border. This isn't just something we can tinker with. We have to actually fix the entire system, and he's committed to doing that."
In other words, the White House may not budge by the time the Families Belong Together movement makes its way to Washington to protest.