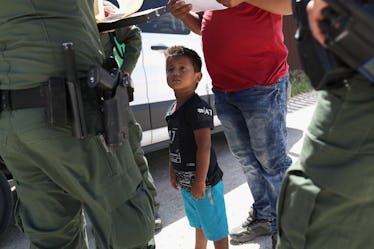 This Recording Of Migrant Children Separated From Their Families Is Heartwrenching
John Moore/Getty Images News/Getty Images
For the past few weeks, the Trump administration has been separating undocumented children from their parents as part of its new "zero-tolerance policy." Some people view the policy as "cruel" or un-American, while others stand by it wholeheartedly. But no matter what your stance is, you can't deny this audio of children separated from their families at the border is truly heartbreaking.
UPDATE: A DHS spokesperson tells Elite Daily that the department has been unable to verify the audio recording, especially as they do not have information about where and when the recording was allegedly taken.
EARLIER: ProPublica released the audio on June 18, which appears to depict children sobbing inside a Border Patrol facility. According to the outlet, the source who shared the clip — who asked not to be identified for fear of retaliation — estimated the children on the tape are between 4 and 10 years old. At one point in the eight-minute recording, children can be heard begging for their "mami" and "papa." But despite the saddening pleas, a border patrol agent can also seemingly be heard making a joke. "Well, we have an orchestra here," the worker says. "What's missing is a conductor."
Before the clip ends, a girl who says she is from El Salvador can be heard asking for her aunt to pick her up, saying, as translated by ProPublica, "My mommy says I'll go with my aunt, and that she'll come pick me up there as quickly as possible, so I can go with her."
The clip was made by an unidentified person who provided it to Jennifer Harbury, a well-known civil rights attorney in the Rio Grande area, who in turn shared it with ProPublica. Elite Daily reached out to U.S. Customs and Border Protection (CBP) and the Department of Homeland Security (DHS) for comment on the recording and its veracity, but did not immediately receive a reply.
Elite Daily also reached out to Harbury for further comment on the clip, but did not immediately hear back.
In early April, Attorney General Jeff Sessions announced the zero-tolerance policy, saying that the U.S. government would prosecute any adult who attempted to illegally cross into the United States from the Mexico border. As a result of the policy, families who crossed together would be separated in some cases, according to Sessions, with children being held in detention facilities while the adults are prosecuted.
Sessions said, according to New York Magazine,
If you are smuggling a child, then we will prosecute you and that child will be separated from you as required by law. If you don't like that, then don't smuggle children over our border. We are not going to let this country be invaded. We will not be stampeded. We will not capitulate to lawlessness.
The practice has been heavily criticized since then, with both Republicans and Democrats denouncing it. Even first lady Melania Trump released a statement saying she "hates to see children separated from their families." Former first lady Laura Bush slammed it in an opinion piece for The Washington Post, writing,
I live in a border state. I appreciate the need to enforce and protect our international boundaries, but this zero-tolerance policy is cruel. It is immoral. And it breaks my heart.
Bush added that "it is our obligation to reunite these detained children with their parents — and to stop separating parents and children in the first place." She compared the policy, which resulted in some 2,000 children being detained in a six-week period over April and May, to the confinement of Japanese families in the 1940s during World War II.
Even so, it doesn't seem like the policy is going anywhere soon, as President Donald Trump has continued to defend it and shift the blame on Democrats. In two tweets shared on June 16, Trump wrote Democrats could fix their "forced family breakup at the Border by working with Republicans on new legislation," and urged them not to wait until "after the election because [they] are going to lose!"
However, as Slate notes, there's no law that enforces border patrol agents to separate children from their families, and either Trump or Sessions could end it at any time. SMH.
We'll have to wait this one out, but let's all agree to keep hope alive and perhaps this'll have the best turnout it can.