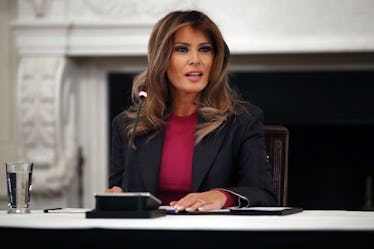 Melania Trump Spoke Out About Separating Immigrant Families, & I'm Legit Shocked
Chip Somodevilla/Getty Images News/Getty Images
Currently, under President Donald Trump's "zero tolerance" policy on undocumented immigration, undocumented migrant children are being separated from their families at the U.S. border. While the Trump administration has been taking a lot of heat over the policy, it seems that there's another critic that's even closer to home than usual. The first lady has just spoken out on the policy, and Melania Trump's statement about immigrant families is honestly really surprising.
On May 7, Attorney General Jeff Sessions divulged during an announcement to law enforcement in California and Arizona that undocumented immigrants caught crossing over the southwest border will be separated from their children as a matter of course. While some in the White House have supported the policy and spoken in its favor, it seems that there's at least one person in the White House who is concerned about it. On Sunday, June 17, Stephanie Grisham, Trump's spokesperson, gave a statement to The Hill which appeared to denounce the policy, saying the first lady "hates to see children separated from their families." Grisham said,
Mrs. Trump hates to see children separated from their families and hopes both sides of the aisle can finally come together to achieve successful immigration reform. She believes we need to be a country that follows all laws, but also a country that governs with heart.
Are you shocked? Because I am. It's surprising that Trump would give a statement that could be perceived as being in opposition of her husband, especially given the fact that Trump is not exactly known for speaking out on policy issues. But when you look a little more closely, she's not really putting any blame on the policy her husband set in motion.
Trump's "both sides" word choice echoes the claim President Trump has been making that the problem of families being separated is really all the Democrats' fault. For several weeks, President Trump has been making the false claim that the notion of separating children from their parents was actually written into law by the Democrats and he's simply enforcing it. Except that there's is no such law, according to The New York Times. There are laws about "improper entry" and about how long migrant children and families can be held in detention, but none of those mean that children are to be taken away from their families.
So initially it looked like she was going against President Trump, but in reality she is kind of selling the same sentiment Trump is: it can all be fixed if the Democrats get on board because it was their idea. Instead, though, President Trump could just stop enforcing a policy that has already taken about 2,000 children away from their parents, per the Times.
Honestly, the shocking part is really just that she said anything at all. But if there was ever a time that Trump speaks up, it's when children are involved because it's something that's clearly important to her. She's done before, too.
Trump isn't often seen rallying along with the president on most things, but her time in the White House as first lady has been devoted to issues affecting children. On May 7, the same day Sessions was talking about tearing children away from their families, Trump was unveiling her "Be Best" initiative, which is aimed at giving children the tools and support they need to "Be Best" on their individual paths. Trump's initiative as first lady will focus on the three major pillars she thinks are most important to tackle in order for children reach their full potential: well-being, social media, and opioid abuse.
During her May 7 announcement from the Rose Garden, the first lady made it clear she thinks that today's "fast-paced" and "ever-connected" world is negatively impacting children, and hindering them from appropriately and affectively handling and expressing their emotions. Trump said,
As a mother and as first lady, it concerns me that in today's fast-paced and ever-connected world, children can be less prepared to express or manage their emotions and oftentimes turn to forms of destructive or addictive behavior such as bullying, drug addiction or even suicide.
Part of her "Be Best" platform is to teach children how to be "positive" online and speak with "respect and compassion" so that they can use social media as a powerful to invoke change.
Of course having part of the first lady's plan be teaching children how to be civil and respectful online seems a little ironic given how President Trump uses Twitter as his own personal clubhouse, where anything goes. However, even though she's aware of the critics, Trump was still adamant about social media being part of the "Be Best" initiative. As Grisham tells Elite Daily at the time, "She is aware of the critics, but it will not stop her from doing what she believes is best if it means helping children."
I think that's sort of Trump's M.O.: she might know that it could come off as ironic or hypocritical of her to speak out on issues her husband is championing, but she doesn't care as long it'll help the children — because I honestly think it's what she cares about most. So although I have the urge to call her out on the apparent irony, I can't because I think she's just trying to make sure that no matter what happens America's children are taken care of. So instead I'll say this: thanks, Melania, for speaking up and saying that this situation is sad and needs to be dealt with. Now all that's left to do is to stop blaming the other side and convince your husband that this needs to end... for the children.