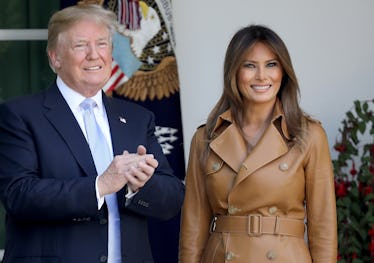 Melania Trump Launched A New Social Media Program & You'll Never Guess How Twitter Reacted
Win McNamee/Getty Images News/Getty Images
In a speech at the White House on Monday, May 7, the first lady launched her long-awaited initiative centered around helping children. And Twitter didn't miss the chance to react to her words about her new "BE BEST" campaign. These tweets about Melania Trump's #BeBest initiative point out some critical irony in the first lady's signature project.
The campaign has three main pillars: To promote childhood wellbeing, address children's social media usage, and support the affects of opioid abuse on children. BE BEST essentially reiterates support for existing programs, according to the official White House release on the campaign. The multi-pronged platform reflected a desire by the first lady to address more than one of the many issues facing children, Mrs. Trump's spokeswoman, Stephanie Grisham, told The New York Times. "She wants to use her platform as first lady to help as many children as she can."
"Mrs. Trump believes that children should be both seen and heard," reads the White House statement, "and it is our responsibility as adults to educate and reinforce to them that when they are using their voices —whether verbally or online — they must choose their words wisely and speak with respect and compassion."
The first lady's agenda has gotten called out before given that her husband, President Donald Trump, has a penchant for name-calling and verbal abuse on Twitter.
"She is aware of the critics, but it will not stop her from doing what she believes is best if it means helping children," Grisham tells Elite Daily.
Indeed, the first lady has addressed the critics before. At a tech summit in March, she said, "I am well aware that people are skeptical of me discussing this topic ... I have been criticized for my commitment to tackling this issue, and I know that will continue."
And Monday was no exception. Users on Twitter were quick to call the inclusion of a social media usage angle hypocritical. "Pretty sure Melania's anti cyber bullying message was directed right at her husband," tweeted one user.
ThinkProgress reporter Aaron Rupar also pointed out the irony in the cyber bullying agenda, writing, "who wants to tell her husband?"
Bloomberg White House reporter Jennifer Epstein mused that Melania might have been "throwing shade" at her husband.
New York Times reporter Astead Wesley simply trolled FLOTUS by sharing screenshots of the president's tweets accompanied by the comment, "Be Best."
Some users even used her awkward campaign title to give some unsolicited advice. "It would #BeBest if @flotus would quit co-signing her husband's gross behavior," tweeted Tara Strong. "It would especially #BeBest if she could get @realDonaldTrump to resign."
The official campaign video, released Monday, also toes a curious line between Melania's politics and her husband's. The video reiterates Melania's previous statement about the students leading the #NeverAgain movement against gun violence in schools following the shooting in Parkland, Florida that took the lives of 17.
"I have been heartened to see children across this country using their voices to speak out and try to create change," she said on Feb. 26. "They're our future and they deserve a voice."
Trump, who has gone back and forth about gun control following the shooting, made a speech on Friday, May4 at the National Rifle Association's annual forum, promising to protect the members from attacks on their Second Amendment. Adding to the irony is the fact that Donald Trump Jr., Mr. Trump's eldest child, had retweeted a conspiracy theory that one of the Parkland survivors, David Hogg, was a paid crisis actor.
But the issue of online harassment has been far and away the biggest thorn in her campaign's side. According to the Times, Mr. Trump had even attempted to steer his wife away from including cyber bullying in her campaign given the blowback. Mrs. Trump had come under first before for mentioning cyber bullying in her intended platform. But in the end, the topic of social media usage made it into the final product.
The first lady's platform itself has been a long time in coming. Whereas other first ladies were relatively quick to roll out and begin implementing their agendas, historians have said that Melania appeared to be a bit slower to take up the task. And even after unveiling the initiative, much of the implementation of any concrete steps, beyond supporting existing programs, remains unclear.