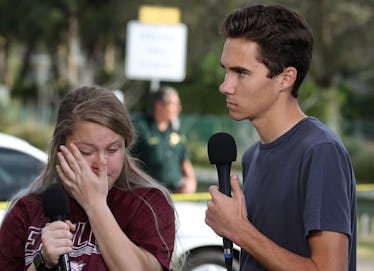 Here's What To Know About David Hogg, The Parkland Student Pushing For Change
Mark Wilson/Getty Images News/Getty Images
In the aftermath of one of the worst school shootings in the country so far this year, a group of high school students are making waves. But one student in particular has been the target of false information and rumors, prompting the internet to ask, who is David Hogg? The Parkland student has made national headlines for multiple reasons, and here's what you should know about him.
On Wednesday, Feb. 14, a former student allegedly opened fire at Marjory Stoneman Douglas (MSD) High School in Parkland, Florida, killing 17 people. The alleged shooter was arrested on 17 counts of premeditated murder, and state prosecutors are set to present a criminal case to a grand jury in the upcoming week, according to The Sun Sentinel. In response, a handful of MSD students have emerged as activists against gun violence. Hogg, 17 and a senior, was present at the time of the attack. In the last two weeks, he's become part of the face of the fight against gun violence in schools.
Hogg filmed the shooting to document the event.
Hogg, per his Twitter bio, is also a student journalist for the Sun Sentinel's Teenlink section. During the Valentine's Day school shooting, while Hogg and his classmates were huddled together inside a classroom, he used his journalistic skills to document the moment. He pulled out his phone and reportedly interviewed his peers about the situation they found themselves in.
"I thought to myself, if I die today ... I want to show these people exactly what's going on when these children are facing bullets flying through classrooms," Hogg told CNN's Alisyn Camerota in a televised interview later that day.
During the CNN interview, Hogg also drew national attention for calling out the lawmakers who had failed to pass gun reform laws, something he's continued to do on Twitter after the shooting.
"We're children. You guys are the adults, you need to take some action and play a role," said Hogg in an interview. "Work together, come over your politics, and get something done."
He's been the target of a conspiracy theory.
As can happen after acts of terrorism, conspiracy theorists began floating alternative tales to explain the events. In posts online, they started calling Hogg a "crisis actor," floating the notion that he was a fake shooting survivor and being paid to make his statements and appearances in the wake of a tragedy. The theory was loosely tied to the fact that his father was a former FBI agent, per The Washington Post, which theorists used to suggest the younger Hogg had received coaching from him on what to say.
Though these rumors were debunked, Hogg didn't let his critics off the hook:
Representative Ted Lieu (D-FL) jumped to Hogg's defense, calling the conspiracy theory "insane" in a Feb. 21 tweet. "Our kids know David Hogg," Lieu added. "My wife and I know his mom, who taught at our kids' elementary school before they moved to Florida. Although David is very articulate, he is not a crisis actor."
Hogg even had some choice words for Donald Trump Jr. and the theorists who peddled the misinformation: "The fact that the witnesses and victims of this have been called actors is a perfect example of the lack of maturity and basic human empathy in this country and in many adults like @DonaldTrumpJr," wrote Hogg in a Feb. 27 tweet.
He's putting pressure on politicians.
Hogg has skewered politicians in recent days for taking money from the National Rifle Association (NRA), the major gun lobby that staunchly opposes gun control. In a Feb. 27 tweet, called out President Donald Trump and Senator Marco Rubio (R-FL), saying that the NRA "owns" them. In a tweet from the day prior, he called the president a "a hypocrite that is owned by the NRA."
Hogg's moment in the spotlight didn't end there. In the aftermath, he's made numerous television appearances, as one of a few MSD students now leading the charge for change.
He's helping to organize the March For Our Lives.
Together with his classmates, Hogg is organizing the March For Our Lives, one of three mass demonstrations taking place around the country this spring to protest gun violence in schools. The student-led march will be officially led in Washington D.C. on March 24, and will be joined by sister marches nationwide.
The march has received donations from big names, including celebrity couples Chrissy Teigen and John Legend and George and Amal Clooney, as well as in-kind support from Lyft, which has offered free rides to and from the march for any participants.
He's calling for boycotts to pressure companies on gun control.
Despite saying in the Feb. 14 CNN interview that he would be returning to school as usual, Hogg reportedly said at a New Jersey gun control rally on Feb. 25 that he'd be boycotting class until changes were made.
Hogg is asking people to boycott vacations to Florida for spring break. "Let's make a deal DO NOT come to Florida for spring break unless gun legislation is passed," he tweeted on Feb. 24. "These [politicians] won't listen to us so maybe [they'll] listen to the billion dollar tourism industry in FL." Instead, he suggested, put your tourism dollars into Puerto Rico.
He's also calling out companies that support or have beneficial ties with the NRA. He mentioned FedEx and Amazon over the weekend for their relationships with the pro-gun group.
Hogg and his peers appear to be having an influence, too. Walmart and Dick's Sporting Goods announced last week they'd be changing their policies around selling firearms, raising the minimum age to 21.
Whatever his critics and conspiracy theorists says, the high school senior doesn't show signs of backing down.