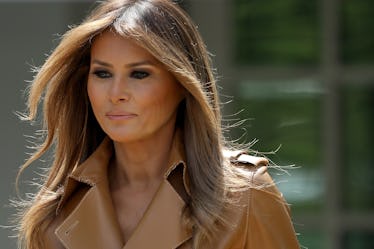 Melania Trump Skipped A Father's Day Message To Donald Trump, & Hoo Boy
Win McNamee/Getty Images News/Getty Images
It can't be easy being in the public eye. President Donald Trump and first lady Melania Trump have been together for a number of years, but since the president's election and start in the White House, their relationship has been under a serious microscope. So when Melania Trump didn't wish Donald a Happy Father's Day, naturally the move (or lack of a move, rather) raised some suspicious eyebrows. As of about 6 p.m. ET on Sunday, June 17, the official word from the first lady on the day's holiday was — silence.
As far as I know, Trump made the decision to not publicly wish the father of her 12-year-old son Barron a happy Father's Day. Am I surprised by this? Not really. Just last month in May the president decided to basically do the same thing by omitting Trump from his Mother's Day wishes that he posted to social media. On May 13, the White House's Twitter account posted an official video from the president, where he wished all mothers in the country a happy Mother's Day, but neglected to shout out the mother of his own child. He even mentioned his own mom in the post, but no Melania.
Could this omission on the first lady's part been a move in retaliation? I don't know the answer to that question, but it seems like this could be a possibility.
Trump also neglected to wish her husband a happy birthday, which passed on June 14. Not one word on any social media on Trump's birthday was said by the first lady, and you'd think that a wife might want to wish her husband a happy birthday — even if it's belated birthday wishes. But not Trump, and the move has me wondering why the radio silence from the first lady on these two important days.
If you look at how these two have been interacting lately, you might be able to guess that their relationship is in a bit of a weird place right now. Elite Daily spoke to body language experts Patti Wood and Traci Brown about the current state of the Trumps' relationship, specifically about one particular moment from April 1. As the Trumps' attended an Easter Sunday church service, the president didn't keep in step with Trump, which according to Wood is a sign that she's not a top priority in his book. Wood says,
If there'd been a subconscious feeling [for Trump] that, 'I want to show her that she's my number one for me or she's my priority', he would've waited. He doesn't wait for her. His subconscious is still saying, 'I'm still number one.'
A couple of weeks later on May 7, the Trumps' body language at the launch for national "Be Best Day" told a very different story. Trump often doesn't smile, but she was all smiles at this event with the president. "We see Melania with a big smile and her eyes lit up," Brown notes. "She puts her hand on his [the president's] back in support while he's signing the proclamation."
The fact that just a couple of weeks ago Trump seemed supportive and loving towards the president doesn't explain why she would choose not to publicly wish him a happy Father's Day or a happy birthday. The different body language that these two have exhibited confirm one thing: that I don't know anything that's happening in the Trumps' world. I could sit here and infer that their marriage is or is not doing so well, but you truly never know what's going on behind closed doors. With that said, it's not the hardest thing to throw out a tweet marking an occasion. Donald sure knows how to do it.