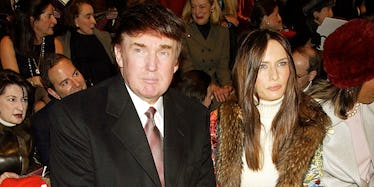 Timeline Of Donald And Melania Trump's Relationship Explains So Much
Scott Gries/Getty Images
Donald and Melania Trump are anomalies.
Since becoming President and First Lady of the United States, it seems we've heard, seen, and learned less about them as a couple than we did when they were on the campaign trail.
In fact, we've learned more about Jared Kushner and Ivanka Trump since this presidency began, mostly because they've been together in Washington D.C.
Melania, on the other hand, has mostly stayed in New York with 11-year-old son Barron.
That absence ended this week, however, when mother and son officially moved into the White House.
With a new chapter starting for the first family, there's no time like the present to look back at how they came together.
Here's a timeline of Donald and Melania Trump's relationship.
Before he met Melania, Donald Trump was separated from his second wife, Marla Maples, mother of Tiffany Trump.
Donald and Melania met for the first time at a party during New York Fashion week in 1998.
According to the Washington Post, the party was hosted by Paolo Zampolli's ID Modeling Agency and took place at the Kit Kat Club in Manhattan.
Donald, who was at the party to meet another woman, told Larry King in 2005,
I went crazy. I was actually supposed to meet somebody else. There was this great supermodel sitting next to Melania. I was supposed to meet this supermodel. They said, 'look, there's so and so.' I said, 'forget about her. Who is the one on the left?' And it was Melania.
According to the Post, she didn't give him her number, but he left his, and she later called.
A month later, he flew her out for a weekend at Mar-A-Lago.
He took her on a private jet, according to the New York Post. Just a few weeks earlier, they had their first date via a night out at the Moombah night club, the New York Post said.
In 1999, Donald finalizes his divorce from Maples.
That same year, during a memorable phone-in to Howard Stern's radio show, Trump would call Melania "First Lady material."
The interview is also remembered because Stern asked Melania if she was wearing clothes or not.
In January 2000, the pair break up.
Trump, who at the time was running for president and seeking the nomination of the Reform Party, tells the New York Times,
Melania is an amazing woman, a terrific woman, a great woman, and she will be missed.
Soon enough, they get back together, and Melania supports his possible future run for president.
While her husband was running, Melania Trump posed in the nude for a memorable cover of British GQ, also in January 2000. For the cover story, she talked to the magazine about the prospect of becoming first lady.
She said,
I will put all my effort into it, and I will support my man.
Donald would eventually suspend his run for the third party candidacy.
In 2001, the couple appears together for a cameo in the movie Zoolander.
In July 2002, Donald meets Melania's parents in Slovenia.
According to the New Yorker, the meeting lasted just a few hours.
The couple soon becomes a staple at high-profile sports and entertainment events.
In 2004, Donald Trump proposes.
And wows his fiancee with a 12-carat diamond ring, pictured above, which cost $2 million, according to the New York Post.
In 2005 Melania and Donald married in Palm Beach, Florida with Bill and Hillary Clinton in attendance.
A year later, in March, their son Barron was born.
In 2011, as Donald begins to gain political notoriety, Melania supports her husband's push to question Barack Obama's citizenship.
In 2015, Donald announces his candidacy for President.
They appears together coming down an escalator at Trump tower before Donald makes his announcement.
In July 2016, Donald introduces Melania at the Republican National Convention.
Melania's speech becomes famous for featuring a plagiarized portion of a former Michelle Obama speech.
In October, the release of a never-before-seen Access Hollywood tape reveals a suggestion of Donald's infidelity.
Donald is caught on tape providing details on his pursuit of a married woman.
Later that month, during an interview on CNN, Melania defends his words on camera as "boy talk."
In January, Melania and Donald officially become President and First Lady of the United States.
In June 2017, Melania and son Barron move into the White House.
They've been through a lot in the nearly twenty years since they met, and we'll see how their relationship progresses from here.