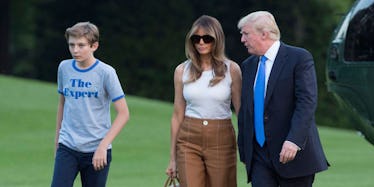 Melania Lives In The White House Now And People Hope She'll Stop Trump's Tweets
Chris Kleponis-Pool/Getty Images
Melania Trump, along with her son Barron, moved into the White House on Sunday night.
This has been a long-awaited move for the mother and son from New York City to Washington D.C. The pair decided last November to remain in New York until Barron finished out his school year at Columbia Grammar and Preparatory School on the Upper West Side.
After the summer, the 11-year-old will be starting at St. Andrew's Episcopal School in Potomac, Maryland.
Trump announced the move on Twitter on Sunday night, saying that she's "looking forward to memories we'll make in our new home!"
We're still waiting to see what issues Trump will take on as first lady.
In the winter, she said she would be focusing on preventing cyberbullying. In an interview with journalist George Stephanopoulos, Melania said that children are being hurt "by social media, by what's going on, and by negativity."
It's true, social media is often full of bullying behavior and negativity.
But now, according to Politico, that initiative has been dropped.
"While cyber-bullying is something she speaks out against, that is but one subset of her focus around the overall wellness of children," Stephanie Grisham, her spokeswoman, told Politico.
Although Trump apparently dropped her anti-cyberbullying campaign for children, many people hope she'll take up the cause when it comes to her husband.
Namely, by making Donald Trump stop tweeting.
Many believe that Trump's presence will have a calming effect on the president. In late May, CNN reported that the president was uncomfortable being alone in the White House.
"He now lives within himself, which is a dangerous place for Donald Trump to be," a source told CNN. "I see him emotionally withdrawing. He's gained weight. He doesn't have anybody whom he trusts."
With this in mind, people think that Trump's White House presence will help the president stop tweeting volatile and sometimes self-sabotaging messages to the public.
Trump reportedly tries to keep her husband from tweeting, according to Politico.
She apparently notices the often negative effects his tweets have.
So people are hoping her move means things will change, and we won't have to wake up, turn on our phones, and groan at what the president tweeted while we were sleeping.
But with a series of early morning tweets from Donald Trump on Tuesday morning, people seem to have lost hope about Trump's ability to stop her husband.
Well, a girl can dream...