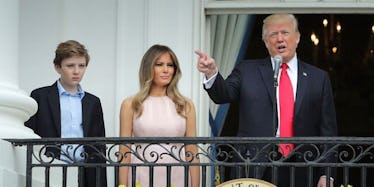 Trump Picked A DC School For His Son, Barron, Far Away From Sasha Obama
Getty Images
Barron Trump, Donald's 11-year-old son, will be attending a private school in Maryland once he moves down to Washington, DC to be with his father in the White House.
The adolescent will be attending St. Andrew's Episcopal School in Potomac, Maryland, starting this fall. He is currently finishing out the school year at Columbia Grammar and Preparatory School on the Upper West Side in New York City.
Barron is the only child of Melania Trump, Donald's third wife. He is the president's youngest child.
Melania chose not to move to Washington after her husband's inauguration. Instead, she and Barron are still living in New York City.
They did this so that Barron would not have to interrupt a school year by making a big move. Because of this, many people have been waiting to see where the preteen would end up going once he moved south.
There's been criticism over this decision. Barron and his mother's stay in New York has been costing quite a bit of money as the city keeps up with the security measures needed for the first family -- and especially one prone to protests.
The administration announced in February that Melania and Barron would be moving to the White House this summer, after Barron finishes the school year.
St. Andrews announced that Barron would be attending in a letter sent to students' parents on Monday, according to the Washington Post.
Initially, the Trump administration wanted to hold the announcement till the summer, but rumors started swirling, so the school took action.
Melania Trump said in a statement that she and Donald are "very excited" about Barron's move to St. Andrew's. She said,
It is known for its diverse community and commitment to academic excellence. The mission of St. Andrew's is 'to know and inspire each child in an inclusive community dedicated to exceptional teaching, learning, and service,' all of which appealed to our family. We look forward to the coming school years at St. Andrew's.
The Obamas also chose not to move after the inauguration in order to keep their child's education stable.
"We're going to have to stay a couple of years in DC probably, so Sasha can finish," Barack said last year. "Transferring someone in the middle of high school? Tough."
They purchased a house in Washington last May, in the suburbs of Kalorama.
Sasha is a rising junior at Sidwell Friends. Malia graduated from there last year and is taking a gap year before heading to Harvard.
Sidwell Friends is a presidential favorite. Chelsea Clinton and Richard Nixon's daughters, Tricia and Julie, all went there. (George W. Bush's daughters had already graduated high school by the time he was inaugurated.)
So, in a way, this is yet another break in tradition from the Trump presidency.
Ivanka Trump and Jared Kushner moved less than two blocks away from the Obamas in Kalorama, but Melania seems to want to make some distance for Barron.
Barron and Sasha's schools are about a half hour drive away from each other, considering traffic.
Barron's Maryland school is a pricey private one.
St. Andrew's was founded in 1978 and only has about 580 students from pre-K through 12th grade, the Washington Post reports.
Tuition costs about $40,000 per year for the middle and high school years.
However, pretty much every modern president has sent their child to private schools while in office. The only exception is Jimmy Carter, whose daughter, Amy, went to public schools in DC.
Tuition at Sidwell Friends, for instance is also about $40,000 per year.
Citations: Barron Trump to attend private St. Andrew's Episcopal School in Maryland this fall (Washington Post)