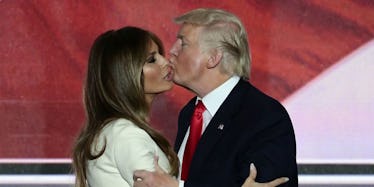 Melania And Barron Trump Won't Be Living With Donald In The White House
REX/Shutterstock
The White House appears like it's going to be one big, lonely bachelor pad throughout the Donald Trump administration.
His wife, future first lady Melania Trump, isn't moving in with him, reports the New York Post.
Instead, she'll be staying in the Trump Tower penthouse with their son Barron so he can continue his schooling in New York City.
A source told the news website,
Melania is extremely close to Barron, and they have become closer during the campaign. The campaign has been difficult for Barron, and she is really hoping to keep disruption to a minimum.
Another source added there is a possibility the pair will move into the White House at the end of the school year.
Melania is very supportive of her husband and is fully on board of doing everything that's needed as first lady. She is really devoted to Barron.
During a recent interview with "60 Minutes," the mom said she's going to use her role as first lady to speak out about issues close to her heart.
Melania said she wants to focus on victims of cyberbullying and the proper use of social media among young people. This is a noble pursuit, but a pretty ironic one considering Trump's brash online persona.
Personally, apart from the occasional speech, I don't think we'll be seeing that much of Melania next year.
But what about their kids? It has long been rumored their eldest daughter Ivanka would take a job in Donald Trump's administration.
However, Ivanka said the only role she'll be undertaking is that of "daughter."
She added she'll use her voice to campaign for issues close to her heart, mainly about children, as she had a little one earlier this year.
The other Trump kids will be based in New York City looking after his business empire.
Citations: New York Post