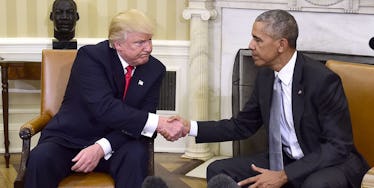 Trump's '60 Minutes' Interview Reveals Terrifying Things About His Presidency
REX/Shutterstock
It's a new week, so let's look at this thing with a fresh mind.
Donald Trump is the president-elect. He won the office fair and square... if you believe in the electoral vote over the popular vote. Now, it's time to put down our pitchforks and give him a chance.
Because he's going to be sitting in the White House. That's not going to change for quite some time.
How he conducts himself and what sort of radical proposals he's going to put on the table are anyone's guesses. But we got a snapshot of Trump's presidency post-election for the first time last night.
He went on "60 Minutes" and spoke about how he wants to shake things up.
Here's what we learned:
Is there going to be a wall?
Yes. At least, that's what Trump promises.
His answer was blunt: He told host Lesley Stahl that part of it could be a fence, but the majority will be a big wall.
And yes, it will be paid for by Mexico.
Will Trump deport anyone?
Yes, he will deport lots of people: about 3 million, to be more precise.
He explained,
What we are going to do is get the people that are criminal and have criminal records, gang members, drug dealers... we have a lot of these people, probably 2 million, it could even be 3 million. We're getting them out of our country or we're going to incarcerate. But we're getting them out of our country. They're here illegally.
What's he going to do about ISIS?
That's on a need-to-know basis, and you don't need to know.
Trump's spoken in the past about maintaining an element of surprise when it comes to eliminating the enemy. He's repeatedly quoted the Pentagon's public discussions of the mission to reconquer Mosul in Iraq. He claims ISIS leaders have already shipped out of the area and moved on as a result.
The president-elect also claimed last night that he probably knows more about ISIS than some of the country's top generals do.
Where does he stand on abortion?
Last night, he reiterated his anti-abortion stance. He said the Supreme Court justices he elects will be pro-life.
Trump dodged a direct answer when he was asked if he would ever overturn Roe v. Wade. But he said if it were to happen, the decision would go back to the states.
This means some women would have to travel out of state to get an abortion.
Will he take the presidential salary?
He says he won't. Although by law, he thinks he's required to take $1.
(The salary is $400,000, BTW.)
What cause will First Lady Trump devote her time to?
Melania said she wants to focus on victims of cyberbullying and the proper use of social media among young people. This is a noble pursuit, but pretty ironic considering Trump's brash online persona.
What about his kids?
It was long rumored that Trump's children – Ivanka in particular – would take jobs in his administration.
However, Ivanka said the only role she'll be undertaking is that of "daughter." She added that she'll use her voice to campaign for issues close to her heart.
As for the rest of his kids? They'll be based in New York, looking after his business empire.
Will Trump ever release his tax returns?
The president-elect said he will when the time is right... because he's being audited.
So now, apparently, is not the right time. Nor was it the right time during his campaign.
So, I guess we'll be waiting for quite some time.
Is he going to try to put Hillary Clinton in jail?
During the campaign trail, Trump said he would hire a special prosecutor to look into Clinton's email scandal if he were to be elected.
When he was asked on "60 Minutes" if he'll follow through with this, he said he hasn't decided yet because there are more pressing issues at hand.
The same goes for firing top dogs at the FBI.
Is he nervous about being president?
Nope. He says he isn't nervous one bit.
But this is Trump we're talking about. We know he has skin thicker than a tank, but only time will tell if this huge burden is too much for him to handle.