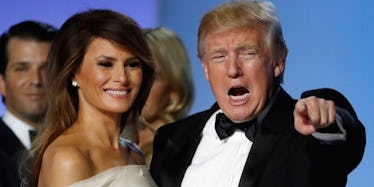 Melania Trump's New White House Move-In Date Shows Ivanka's The Real First Lady
REUTERS
Despite rumors saying otherwise, Melania Trump will, in fact, be moving into the White House.
Eventually.
Melania and her son, Barron, will be moving from New York City to Washington, DC, this summer, after Barron finishes out the school year. That's good education prioritization from Trump, even if it's extremely costly, and despite a controversial pick for education secretary.
Stephanie Winston Wolkoff, Melania's new senior adviser, told ABC News,
Mrs. Trump will be moving to DC and settling into the White House at the end of the school year, splitting her time between New York and DC in the meantime.
Winston Wolkoff added,
Mrs. Trump is honored to serve this country and is taking the role and responsibilities of the First Lady very seriously.
That last part is especially significant, as many have questioned just how seriously Melania is taking those responsibilities. She has barely been present in presidential matters since the inauguration.
Trump's daughter Ivanka, on the other hand, has been involved in meetings and appearances a first lady would typically handle. On Wednesday, Ivanka accompanied her father to honor a Navy SEAL killed during a raid Trump ordered and visited the Chinese Embassy.
It was also announced Melania officially hired her chief of staff. That role will be filled by Lindsay Reynolds. Reynolds is a veteran of the George W. Bush administration. In that time, she served as associate director of the White House Visitors Office.
Melania has been working on hiring her full-time staff, who will help her with the duties of being America's first lady. Winston Wolkoff, who used to work at Vogue, has been at the front of this staff search.
The announcement that Melania and Barron will be permanently moving to the White House comes just after US Weekly reported that a family friend said she would be "reevaluating" the full-time move at the end of the school year.
Citations: Nomination of Betsy DeVos, Trump's Pick for Dept. of Education, in Peril (NBC News), First Lady Melania Trump, son Barron to move to D.C. in summer (WJLA), Ivanka Trump Accompanies Her Father to Honor Navy SEAL Killed During First Trump Raid (Cosmopolitan), The Latest: Ivanka Trump visits Chinese Embassy (Yahoo), Melania Trump Announces Chief of Staff Hire Lindsay Reynolds (US)